The Curators: DTLA Through The Eyes of Vanguard Concept Store Please Do Not Enter
As Nicolas Libert guides me through the boutique-cum-gallery he founded with Emmanuel Renoird in Downtown Los Angeles, he recounts an anecdote: "when we first opened last year we were expecting a delivery. We waited and waited and realised the courier had in fact attempted the delivery; he read the name of the space – Please Do Not Enter – took it literally and returned to the depot".
Unusually it what just what Libert and Renoird could have hoped for – creating a destination of temptation for only the curious of customers willing to step over the threshold into their conceptual world of contemporary art, design and fashion. The art collectors from France relocated to L.A. in early 2014 and had been tempted themselves by Downtown's diverse community and iconic architectural landscape. Within its first year Please Do Not Enter's ambitious programme of international exhibitions and events alongside its collection of unique and limited edition luxury products has earned this dynamic concept store a spot on L.A.'s creative map.
Let your curiosity get the better of you and discover Downtown L.A. from daylight to nightlife through the curated eyes of Please Do Not Enter.
Please Do Not Enter is available to visit by appointment.
549 S Olive St, Los Angeles, CA 90013
(213) 263-0037
JONATHAN VELARDI: Why did you decide to open Please Do Not Enter in Downtown L.A.?
PLEASE DO NOT ENTER: We felt something exciting was and continues to happen in Downtown. We loved the historical architecture in the area and the Beaux-Arts style of the Pacific Mutual Building on Pershing Square where we're located. It's been at the heart of Downtown since its founding and remains the epicentre for the community, which is diverse and unlike any other neighbourhood in the city. We're interested in the aesthetic of life – that's what Please Do Not Enter is all about and for us Downtown is a perfect match.
VELARDI: Describe the Please Do Not Enter experience and what makes your curated store different from a traditional retail model.
PDNE: Sharing our experience of the artists and designers who we work with is really important to us. We enjoy the dialogue and interaction between the pieces in our collection when customers visit the space. We guide them through the collection piece by piece – who the artist or designer is, where they are from, what type of craftsmanship process is involved – this is where the value is for us.
Hosting exhibitions and events allows us to introduce our customers to new products or talent from France and around the world never before seen on the West Coast or even in America. Unlike traditional retail models, as a curated store we can tailor our programme with cultural events happening in the city, such as hosting the launch of art magazine Headmaster during the L.A. Art Book Fair. We always want to create something new and unexpected and we're delighted to be bringing to our space a group exhibition of 6 established international artists who produced one-of-a-kind artworks for the Wink Collection, debuted at the Silencio Club in Paris, which will mark the very first time the works have been seen together outside of France.
VELARDI: What can we look forward to from Please Do Not Enter this year?
PDNE: We're taking new directions this year both in-store and out into L.A. In the very beginning we wanted to stick with what we knew and that was menswear. But we had so many women visiting the space, wanting to be catered for. But when we saw the amazing cashmere collection by Denis Colomb we decided to stock womenswear for Spring/Summer for the first time alongside our existing menswear designers.
We're also really looking forward to the opportunity of moving to larger premises in the Pacific Mutual Building since our current space is too small for what we want to do, and for artist and designer Arik Levy to inaugurate the space with a monumental exhibition of newly commissioned works.
Beyond the curated space, we are staging our first outdoor installation, 'Projection'. In April, Paris-based artist Vincent Lamouroux will shroud the entire Bates Motel – an abandoned Silverlake landmark – in a symbolic coat of whitewash ahead of its demolition, to act as a visual commentary on urban redevelopment.
INSIDER HOTSPOTS IN DTLA BY PLEASE DO NOT ENTER'S NICOLAS LIBERT AND EMMANUEL RENOIRD
BEST ATMOSPHERE:
GRAND CENTRAL MARKET
If you're coming to Downtown for the first time you have to visit Grand Central Market – the oldest and largest public market in L.A. It's located a couple of blocks from us and it's really a symbol of the Downtown spirit right now; where the Downtown community past and present come together. You can experience the old school food stores alongside the hipster bars and restaurants all under one roof. We love the fresh juices at Press Brother's Juicery as well as soaking up the atmosphere at Eggslut where eggs of any preparation are served all day.
http://www.grandcentralmarket.com/
Grand Central Market LA
317 S Broadway St, Los Angeles, CA 90013
(213) 624-2378
BEST VIEW:
PERCH
The rooftop bar at Perch offers the best views of the Downtown skyline. We like going there because they always play French music and songs you just wouldn't be able to hear anywhere else. If you can take your eyes away from the view, this is a great relaxed spot to people watch over the French-inspired menu.
Perch LA
448 S Hill St, Los Angeles, CA 90013
(213) 802-1770
BEST DOWNTOWN ART GALLERY:
FLAX FOUNDATION
FLAX Foundation is a non-profit organisation promoting contemporary French culture across Southern California. The foundation provides residencies to emerging artists from France to work in L.A., who in turn produce specially commissioned works for exhibition throughout the year. The foundation is in good company, based in the same building as the ever-influential Francois Ghebaly Gallery.
FLAX Foundation LA
2245 E Washington Blvd, Los Angeles, CA 90021
BEST WEST SIDE ART GALLERY:
OHWOW
Life doesn't only exist in Downtown. When we're Westside we like to visit OHWOW in West Hollywood off Santa Monica Boulevard. The contemporary gallery opened its L.A. outpost in 2011, representing emerging and established American and international artists. As of 2013, OHWOW also represents the estate of Robert Mapplethorpe in Los Angeles.
OHWOW LA
937 North La Cienega Boulevard, West Hollywood, CA 90069
(310) 652-1711
BEST CITY TOUR:
LOS ANGELES CONSERVANCY
For over three decades the Los Angeles Conservancy has worked towards protecting and advocating architectural gems across the city. To raise awareness of its cause they organise architectural walking tours. One of our favourites is the Broadway Historic Theatre tour on Saturdays. The tour is a rare opportunity to visit some of LA's most elaborate palaces of performance, no longer open to the public, and uncovers the significance of Broadway and the Commercial District as the beginning of L.A.'s future as we know it today.
https://www.laconservancy.org/
523 W 6th St #826, Los Angeles, CA 90014
(213) 623-2489
BEST PARTY:
MUSTACHE MONDAYS at LA CITA BAR
Capture the energy of Downtown's nightlife on Monday nights with an eccentric gay and straight crowd of avant-garde creatives from the art and fashion industries. It's a place where you go without any expectations but are always guaranteed a fun time thanks to the people, their style and the DJ sets.
https://www.facebook.com/MUSTACHEMONDAYS
336 S. Hill Street, Los Angeles 90013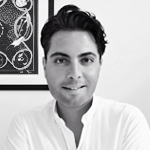 Jonathan is our UK-based correspondent covering all eye-pleasing things for Melting Butter's Arts & Culture pages. Being a contemporary visual artist working in public spaces around the world as well as a freelance culture writer for sites and publications like Ohh Deer and London Calling, Jonathan brings a rare combination of talent from the worlds of editorial, conceptual art, design and lifestyle. Be sure to check his blog and his art practice, which satisfy his hunger for both high and low culture. Follow his tweets too: @JMVELARDIRead about Jonathan's favourite hotspots here.
(Feature Photo: Inside Please Do Not Tell – Photo: Courtesy of Please Do Not Tell LA)
Share this