Concept Store Find: Please Do Not Enter Los Angeles
In deep and darkest Downtown Los Angeles, or so the Westside would have you believe, resides the tallest and brightest concept store in the city. Perched on the twelfth floor in the historic Pacific Mutual Building on Pershing Square, little will prepare visitors to the light-filled boutique-cum-gallery.
Glass partitions and polished concrete frame the collection of luxury lifestyle goods and fashion curated by French founders Nicolas Libert and Emmanuel Renoird. Craftsmanship is the essence of Please Do Not Enter's retail experience and this is reflected from desk stationery by Japanese papermaker Ito Bindery through to large-scale contemporary art sculpture by Arik Levy.
The collection features unique or limited edition products as well as international and US-exclusives. While the concept store largely caters for the modern man, the varied collection by artisans and designers – including Misericordia, Le Gramme and Kobja – will also attract female customers with a penchant for adventure. After all, Please Do Not Enter is all about tempting our inner rebel, in the most tasteful way possible.
Please Do Not Enter is available to visit by appointment.
549 S Olive St, Los Angeles, CA 90013
(213) 263-0037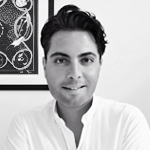 Jonathan is our UK-based correspondent covering all eye-pleasing things for Melting Butter's Arts & Culture pages. Being a contemporary visual artist working in public spaces around the world as well as a freelance culture writer for sites and publications like Ohh Deer and Candid Magazine, Jonathan brings a rare combination of talent from the worlds of editorial, conceptual art, design and lifestyle. Be sure to check his blog and his art practice, which satisfy his hunger for both high and low culture. Follow his tweets too: @JMVELARDIRead about Jonathan's favourite hotspots here.
(Feature Image: By Elizabeth Daniels Photography, courtesy of Please Do Not Enter Los Angeles)
Share this