Boutique Hotel Find: Vigilius Mountain Resort South Tyrol
The intoxicating feeling of isolation begins with the cable car ride to the summit. As the small Alpine town of Lana falls away below, there is nothing else to do but take in the breathtaking vista as you rise above the veil of clouds shrouding the valley. At the top; breathe in, breathe out, and listen. The silence is immediately transformative – time seems to slow right down.
The eight-minute cable car ride up to the impeccably refined Vigilius Mountain Resort sets the mood of giddy, exhilarating freedom; a feeling that is perfectly captured and distilled in this boutique spa resort nestled at the top of the Vigiljoch mountain in Italy's South Tyrol region.
Local architect Matteo Thun has interpreted this dramatic setting with meticulousness and grace. A long, low sweep of a building, clad in locally-sourced larch-wood screens, the Vigilius echoes the lightness and layered transparency of the surrounding forests. Inside, the flowing, austere spaces are brightly lit by vast skylights, keeping the focus up to the sky above.
The spa at the Vigilius is a jewel-box of detail-oriented, minimal design. Swim a few laps and take in the pool's sweeping view of the Dolomites, or take a sauna with its picture window looking onto a glade of larch trees.
The 41 guest rooms are laced with the scent of fragrant wood, and, surprisingly, the comforting scent of raw earth – each room is designed around a free-standing rammed-earth wall (heated in winter; toss your rain-drenched scarf over it before you go to bed, and thank me in the morning).
Of course, the one ever-present design element throughout the Vigilius is also the most affecting – the magnificent view. It's the fourth wall in every room, and refuses to be ignored. What is that feeling? That particular sensation only experienced when viewing the world from above – something about gaining a new perspective on life? Whatever it is, it's a quality that can't be bottled, which makes places like the Vigilius such a rare and precious find.
Vigilius Mountain Resort South Tyrol
Monte San Vigilio, 39011 Lana, Alto Adigo, Italy
+39 0473 556 600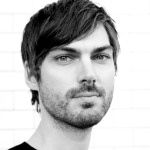 Benedikt is Melting Butter's NYC-based design editor. He's also a freelance architect, designer and writer with work that's grounded in a strong multi-disciplinary focus, encompassing architecture, interiors, product design, curation and visual communication. Right now, Benedikt's creative projects include an illustrated book, a site-specific art installation in the Manhattan streetscape, and several ongoing creative collaborations.
(All photos courtesy of Vigilius Mountain Resort South Tyrol)
Share this