Wine Find: Bird in Hand Winery Adelaide Hills
There's no doubt the fine art of winemaking, and its enjoyment, has been perfected by winemakers at Bird In Hand Winery.
Located in the stunning Adelaide Hills, the winemakers have preceded their nationally renowned reputation with a solid international following of loyal connoisseurs.
THE WINERY
Named after the Bird in Hand gold mine, which operated on the land in the 1800s, the winery prospers from rich red soil on the estate surrounded by beautiful Australian gum trees. Founded by South Australian Andrew Nugent whose grandparents were farmers, his pathway began at agricultural college later going on to work on vineyards and olive groves as an apprentice. It was in 1997 when Nugent and his father bought a run-down dairy farm in the Adelaide Hills with 80 acres of land, and where the Bird in Hand legacy began. "What I love about winemaking is the aspirational side. The combination of agriculture, science and art – the ability to be creative while pursuing quality and excellence" states Nugent.
Art, design, travel and hospitality are intrinsically linked at Bird in Hand. An outdoor area in their Adelaide Hills premises hosts various live music concerts and Summer events and collaborations with London's Serpentine Galleries and fashion designers such as Dion Lee and Henry Holland see Bird in Hand bottles becoming collectables.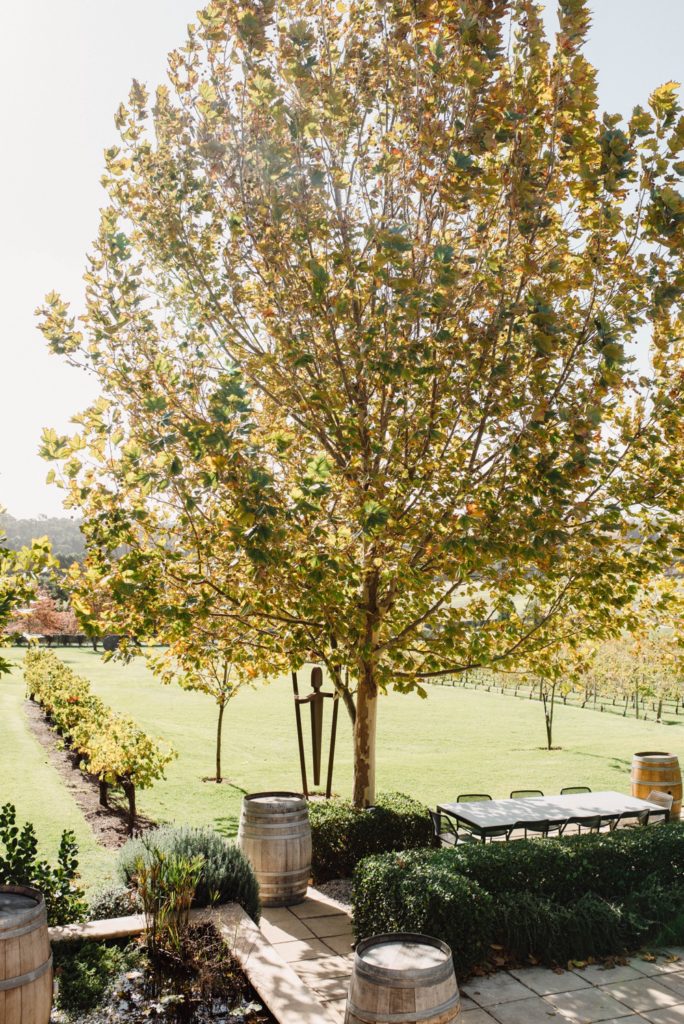 THE GALLERY RESTAURANT
With a farm-to-table approach, the menu at The Gallery represents the best of local, South Australian produce. Marbled tomatoes, eggplant and zucchini – which we dined with on during our 'Joy Flight' 6 course meal – were hand-picked that morning from the garden just outside the restaurant window.
The English-style garden is overseen by Susie, Andrew Nugent's wife, a passionate gardener supplying the restaurant with freshly picked produce. Gathered in the morning and presented on plates at lunchtime and dinner, it's impossible to experience fresher ingredients. These too, like the vineyards, benefit from their location and surrounding environment. Chickens lay fresh eggs, whilst fruits and vegetables – such as apple, pear, quince and fig – are blessed by the sun to encourage immense flavours and colours.
A stand-out dish for us was the Kingfish sashimi ponzu with pickled onion, togarashi and toasted nori. Not only an example of how internationally-minded the chefs are (using a traditional Japanese seven-spice mix) but how well these ingredients translated to an Australian experience. On first bite of the sashimi it is like taking a dip in the ocean – the cool, salty sea water a pleasant experience blended with the fleshy, soft texture of the fish – then surprisingly getting stung by a jellyfish (when the spices kick in abruptly) to find yourself seeking aid in the Bird in Hand 2018 Riesling as you rest back on the shore. We only suggest that this dish and wine paring be served individually, highlighting it as an experience to enjoy on its own before the other dishes.
The Bird in Hand Honeysuckle Riesling is another standout wine, paired with their intermediate dish of lemon and honeysuckle Riesling sorbet to cleanse the palate. Cleverly put together, the Honeysuckle Riesling sorbet is topped with a sprinkle of matcha and frieze-dried mandarin, which effortlessly melts in the mouth. The selected details at The Gallery are key to the restaurant experience.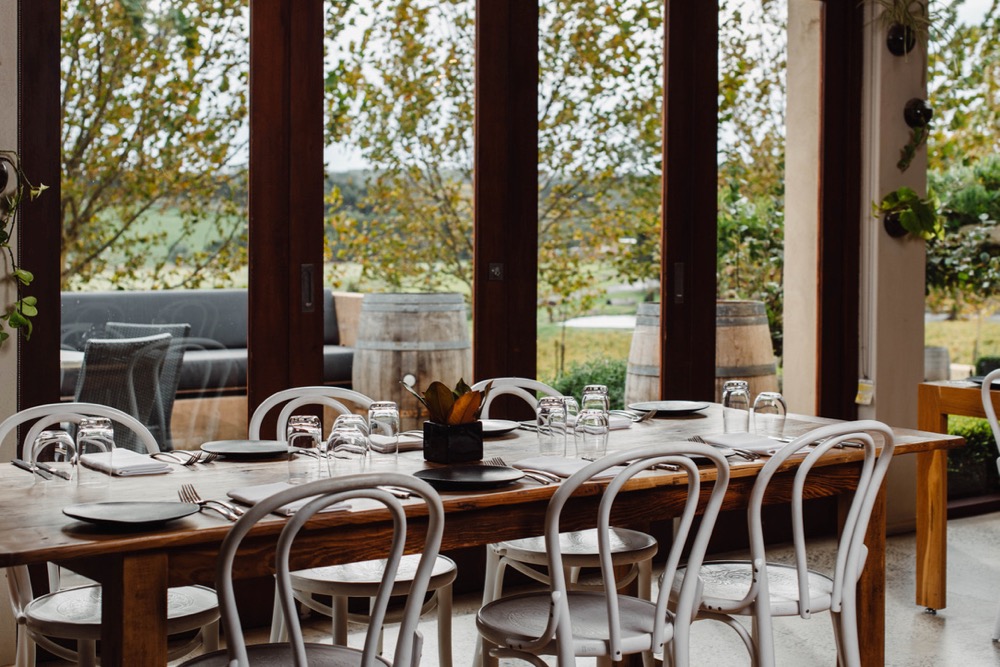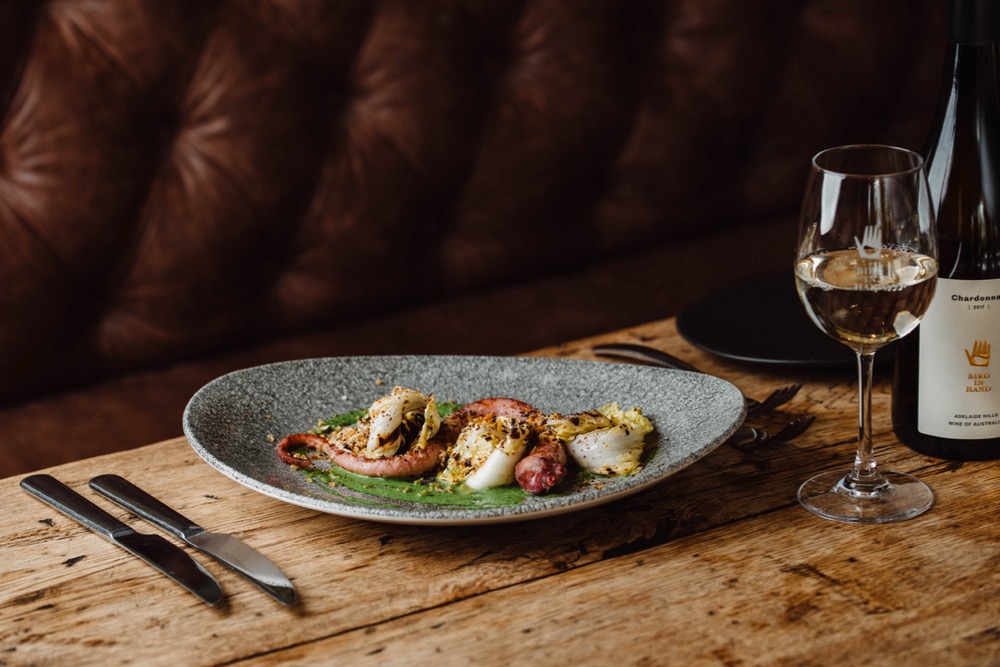 CELLAR DOOR
When visiting the Bird in Hand Cellar Door, guests experience more than just a wine tasting. Staff are just as passionate as the Nugent family, educated on every element of the winemaking process. Wines can be tasted not only in the Cellar Door, but also in the Barrel Hall, the outdoor courtyard overlooking the vineyards or in The Gallery restaurant next door. Tutored tastings are available, with guests able to experience wines you can't drink anywhere else. This includes late releases and carefully-cellared museum selections.
Bird in Hand's respect for tradition is paired with a modern approach: red grapes are fermented in wooden French wine barrels, whilst their white grapes are distilled in steel ensuring a crisp, smooth taste. Pinot Noir, Shiraz, Sauvignon Blanc and Chardonnay grapes are planted in their vineyards, and overseen by head winemaker Kym Milne.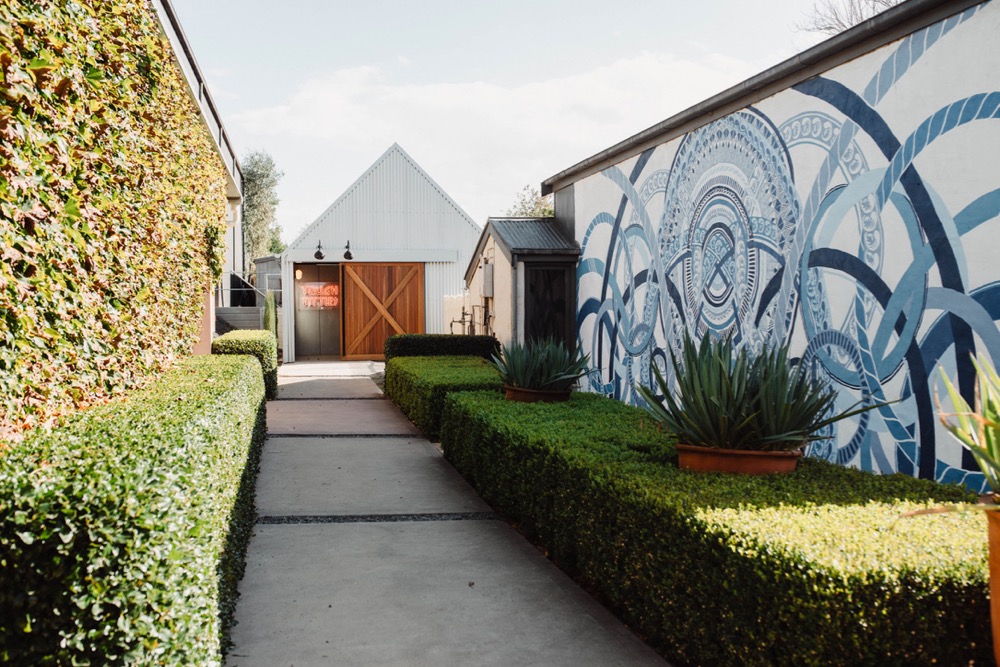 ART COLLECTION
On the drive up to the vineyard, a kinetic artwork by artist Rudi Jass greets visitors from a distance. Upon arrival, their rusting steel facades are evident with their textures and tones complimenting their surrounding environment.
On the winery grounds, commissioned works by Bird in Hand can be found strategically placed to surprise and delight. The 'Circle of Love' sculpture by New York-based artist Paul Gerben is amongst Bird in Hand's collection as is the steel sculpture by Greg Johns overlooking the winery lake. Melbourne-based artist Lucas Grogan's site-specific mural adorns a building facade which is also home to two-centuries old restored Moroccan doors. Culture and history are everywhere on the premises. Nugent explains, "From family, farming and science, to art and creativity, everything links together. Artisan winemaking provides us the seamless connections through the artistic genres, culminating in the experience of making people happy".
From an old dairy farm to a world-class winery housing international and Australian art, hard work and dedication has paid off for Bird in Hand. They've set the bar high for neighbouring wineries but ultimately their internationally focused communications it benefits everyone, placing South Australian wines at the very forefront of a culture celebrating craftsmanship and a lifestyle based on enjoyment and good taste.
Bird in Hand Winery Adelaide Hills
150 Pfeiffer Road,
Woodside, Adelaide Hills
SOUTH AUSTRALIA
This article comes in cross-collaboration with our friends at Champ Travel
(All images by Meaghan Coles courtesy of Bird in Hand Winery
Share this