THE EDITORS: RYAN FITZGIBBON ON FOUNDING HELLO MR. & HIS BEST OF BROOKLYN
In the first of a new series introducing the editors behind some of our favorite publications and their pet local hotspots, we talk to Ryan Fitzgibbon, Founder and Editor-in-Chief of independent gay magazine Hello Mr. 
The status quo for the LGBT community in both America and on the global stage is very different today to what it was when Ryan Fitzgibbon was first putting ink to paper in 2013. Feeling disenfranchised with the visual lexicon other gay lifestyle magazines were promoting while growing up, Fitzgibbon recognized the need for less porn mag and more #printporn on the newsstand when it came to popular gay media. His Kickstarter campaign overcame unfulfilled prophecies that "print is dead" and was spurred when gay politics was commanding mainstream media attention, paving a way in the market for a decidedly tangible product 'about men who date men'.  
Fitzgibbon single-handedly set out to rebrand what it means to be gay in his 168-page bi-annual publication; Hello Mr. His background in graphic design specifically addressed the magazine's effect on the newsstand. Toning down the color spectrum to dispel of any saturated rainbows and favoring personal narratives, essays and stories over clichéd naked bodies, Hello Mr. presents an accessible and sophisticated voice, which speaks to an audience beyond the gay community with thanks to its curated eye for design.  
Neither top nor bottom – on newsstand shelves that is – Hello Mr. finds itself on that lucrative middle tier alongside the increasingly influential independent publications that ooze quality and critical content. The issues have infiltrated themselves onto the lifestyle shelves of museums, hotels and design and fashion stores in 23 countries worldwide.  
From his very first Editor's letter in the inaugural issue on vulnerability through to Issue 06 about experimentation that showcases the work of Berlin-based filmmaker and photographer Matt Lambert, Fitzgibbon continues to steer his magazine with confidence towards a new vision of masculinity.   
Discover the mister behind Hello Mr. as Ryan Fitzgibbon speaks candidly about independent publishing and the future of contemporary gay media from his home in Brooklyn, New York. 
Jonathan Velardi: You launched Hello Mr. when you were living in Australia – do you think you would have been able to achieve what you did with the first issue if you were in America at the time? 
Ryan Fitzgibbon: I don't think I would have actually. Prior to starting Hello Mr. I was a consultant at the design firm IDEO in San Francisco that involved quite a lot of travel. I was living in Silicon Valley when the iPad was released and the 'print is dead' conversation was happening. Print was being forecast as the least expected force in mass media. You can imagine how many sceptics were around in the environment I was in, because what I was aiming to get off the ground wasn't technically revolutionary, but in terms of rebranding a media for a certain demographic, it made sense for me to investigate that elsewhere. Australia was a place I was very keen to explore personally. It was also attractive as a culture that had a sensibility for curated design across its social landscape. I felt there was a lot more support for independent publishing within the country's design community, having all these really great magazines from Frankie to Smith Journal and Dumbo Feather, which on small scales were thriving and doing great things. When it came to gay media, there were a lot more options on the shelf in America and even Europe compared to Australia at the time, so when I was launching Hello Mr. there was a lot more interest and support for the expansion of their diet. In hindsight, the benefit of doing it out of my comfort zone of America, in a supportive environment in Australia, helped Hello Mr. get off the ground. 
JV: Hello Mr. serves a very different visual identity compared to other popular gay media – how important is design in today's socio-political climate? 
RF: Paper quality was one of the first discussions I had with myself. Within the magazine industry at large, gay and luxury media, which I never found accessible, is mostly printed on high-gloss with disposability in mind. I wanted to create something with lasting quality that people would want to collect and keep. My background as a graphic designer doesn't necessarily mean that I know my papers – I'm just a print nerd who knows what he likes. So I decided one way to react to the existing market was to print onto matte paper in order to make it tactically different on the shelf. It was always my intention for Hello Mr. to be a departure from the style of mainstream media that was being presented to a gay audience. Like when the New York Times would talk about gay marriage, their stock image was taken from a gay pride parade. I just felt we as a community could do so much better representing daily life more realistically. A culture is made up of a history and legacy of visuals and ironically these become palatable for a mainstream audience that's consuming and trying to understand and identify with a subset of a population. So we have our symbols of the rainbow flags, disco balls and things that visually scream 'gay' – they're easy symbols to call upon in journalism when you're trying to visualise an idea. But when the community gained more respect, more rights and more understanding, these symbols became very limiting. Hello Mr. tries to strike a balance in the market with a relatable and more accessible visual style that also requires it to cross generations and speak to other subsets within our culture. 
JV: Are stereotypes in the mass media surrounding the LGBT community here to stay?  
RF: Honestly, I think there's a tension in the conversation right now. Older generations are holding onto those attributes of our history and the legacy that allowed something like Hello Mr. to exist today. I don't think we have the same reasons to fight to save our sense of community in the way that we did before through our attachment with the visual vocabulary we just discussed. It's a constant discussion that is easy to overlook by generation after generation still bound to that historic vocabulary. It's always going to be present and it will always be something that we use to pay tribute to, but I believe that our visual vocabulary is expanding. 
JV: Are celebrity collaborations a way of bridging the markets between straight and gay media? 
RF: It definitely helps to have notable people in the magazine or on the cover that may invite someone walking through a Barnes & Noble to pick up Hello Mr. because they're a fan of that personality's work. Our second cover featured Grizzly Bear frontman Ed Droste and it certainly kick-started an awareness and interest in what we're doing amongst an audience much larger than I had expected. It also drew a lot of straight and female contributors, which has been really great. 
JV: Describe what it's like being a part of the independent publishing community today? 
RF: There's always been a strong community of zine-makers and art book lovers who really support the creation of niche products. When I was launching Hello Mr. not only was marriage equality and Prop 8 being discussed, so was the demise of print. Independent publishers were trying to disprove the idea that the only way to survive was to create a paywall and make content digital. Because there were so many critics it also meant there was a lot of conversation and that conversation lead to a lot of articles that subsequently lead to profiles that lead to New York Magazine doing a survey about indie magazines. With all that attention surrounding independent print, it really helped the momentum for the community and what I was trying to do with Hello Mr. Today we can penetrate markets where independent magazines and gay media never existed before. I'm always discovering new magazines. On my desk right now are copies of Riposte, which is a smart magazine for women and Human Being Journal from Need Supply Co. I'm a magazine lover but I'm sure as with every editor in my position, I miss the pure joy of reading for my own interest. Now it's a professional activity – that's not a bad thing at all, but it's definitely changed how I look at a newsstand. 
JV: The magazine has established itself as a beautiful product – what more can readers look forward to from Hello Mr.?  
RF: Over the last 2 years I've been putting a lot of energy into hosting events and creating experiences that can bring the readers out of their private experience of reading the magazine into what is actually the goal of the magazine: building a community. Within the months in between an issue release, we have the time to build these experiences and explore our online platforms in order to keep the conversation alive. We've begun to establish a digital presence outside of social media and it's been a great tool to connect to our readers by providing them with an outlet to share what they've been working on. This is important because making sure we address and acknowledge all our readers around the world is unfortunately limiting in what capacity I physically have. It's happening organically and proves there is great potential within the Hello Mr. community to grow in more active ways.  
INSIDER HOTSPOTS IN BROOKLYN BY RYAN FITZGIBBON 
BEST REFUEL: HOMECOMING
Part florist, part café, this Greenpoint favorite has become part of my daily routine and it's not just because I have a huge crush on the owners. I go through a loyalty stamp card a week just getting my fix of coffee and flowers. Homecoming also has a great curation of gifts by local artists and stocks some of my favorite indie magazines. 
Homecoming 
107 Franklin Street, Brooklyn, NY 11222 
(347) 457 5385 
BEST ALL DAY BREAKFAST: FIVE LEAVES
I could eat the mushroom toast with an extra poached egg everyday at Five Leaves for the rest of my life and never get sick of it. The atmosphere here is the most lovely, as long as you don't try to go during weekend brunch. Have a late start on a random Friday and order yourself a cocktail for breakfast too. It's always worth it. 
Five Leaves
18 Bedford Avenue, Brooklyn, NY 11222
(718) 383 5345
BEST RUNNING ROUTE: THE WILLIAMSBURG BRIDGE
I was never a runner before moving to Brooklyn but gym memberships are expensive and I live minutes from the base of the bridge, so I had no excuse. The energy of the cars and trains speeding below you is such a rush. Not to mention the Manhattan skyline all around you. If you're not a runner, bike or walk the pink passageway from the Lower East Side to Williamsburg and back next time you're in NYC. 
BEST COCKTAILS: DONNA
Sometimes one or two cocktails is all I need to settle into the night after a long week, and when I do, I want to take my time and enjoy it and the space I'm in. Slightly off the beaten path, Donna is worth the effort for top-notch cocktails and a cozy atmosphere that will have you unwind in no time.  
Donna
27 Broadway, Brooklyn, NY 11249
(646) 568 6622
BEST CITY ESCAPE: STORM KING ART CENTER
Anyone who has lived in NYC for more than six months would agree that leaving the city is an essential part of staying in love with it. Nearly two hours north from the city in Mountainville, Storm King is an art and nature lover's dream. Pack a picnic and some reading material to recharge and be inspired by this gorgeous landscape.  
Storm King Art Center
1 Museum Rd, New Windsor, NY 12553
(845) 534 3115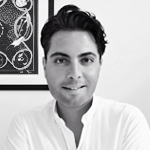 Jonathan is our LA-Based Arts + Culture Editor covering all eye-pleasing things for Melting Butter's Arts & Culture pages. Being a contemporary visual artist working in public spaces around the world as well as a freelance writer for sites and publications like FAD and London Calling, Jonathan brings a rare combination of talent from the worlds of editorial, conceptual art, design and lifestyle. Be sure to check his blog that satisfies his hunger for both high and low culture and follow his tweets @jmvelardi and Instagram @jonathanvelardi
Read about Jonathan's favourite hotspots here.
(Feature Photo: Ryan Fitzgibbon, Founder and Editor-in-Chief of Hello Mr. – Photo: Ryan Fitzgibbon)
Share this