The Curators: East L.A. With Naomi Wilding & Anthony Cran of Wilding Cran Gallery
"We're thinking about putting on an annual exhibition where we invite a group of artists from another city to L.A. and see how it informs their practice", Naomi and Anthony disclose in their enviable art-filled office as gallery dog Lou circles the desks. "It would be very relevant at this moment in time when there's this burgeoning energy around: this sense of change". This very energy is why Naomi Wilding and Anthony Cran opened their eponymous gallery in Downtown's Arts District less than two years ago. A day is a long time in this corner of Los Angeles, where the pace of development is fast and furious. While shiny skyscrapers appear out of thin air along the I-10 freeway in West Downtown, the Arts District to the East offers an industrial canvas for all the ingredients to conjure a new destination for high culture. For the husband and wife partnership, their gallery represents much more than a white cube. Wilding Cran Gallery endeavours to balance commercial obligation and contextual dialogue with social responsibility – an act that is ever-changing with the dynamics of its surroundings, unfolding at the gallery's doorstep.
Blink and you'll miss it – navigate your way through one of the most metamorphic areas in America with curators Naomi Wilding and Anthony Cran, on contemporary art, philanthropy and the future of Downtown Los Angeles, where the eyes of the art world are firmly fixed.
Wilding Cran Gallery LA
939 South Sante Fe Avenue, Los Angeles, CA 90021
Open Wednesday to Saturday.
Jonathan Velardi: How did you decide Downtown was the right area to open the gallery?
Naomi Wilding: Anthony and I noticed a development of this area a few years ago. We found ourselves moving further and further East in all aspects of our daily lives. We were both fascinated by Downtown and all the changes it has gone through historically. We were spending more and more time in Downtown – it was where things were beginning to happen; there was no question this is where we had to be. We also wanted to be a part of something new as opposed to opening a gallery on the Westside or on La Cienega Boulevard, which was already so established. There's no way that we would have been able to thrive in that environment.
Anthony Cran: At the time, we consciously wanted to be off the beaten path. We chose below 7th Street in Downtown, thinking that it might take a few years to establish itself, but in contrast, the development has happened so quickly what with Soho House moving in across the street very soon. There are already near to 23 galleries from where Hauser Wirth & Schimmel is going to open on East 3rd to Francois Ghebaly Gallery on East Washington across the East bank. When we were initially looking for a space I think there were only 5 galleries in the Arts District. Downtown continues to level the playing field for smaller galleries to do their own thing outside of Beverly Hills, Hollywood and Culver City, giving us more opportunity to create a sense of community in the Arts District. We planned on finding our feet down here for a little bit. We didn't expect this pace of change at all.
JV: The gallery is unique as you offer two exhibition spaces. Explain the curation behind each space.
AC: We have the main gallery space that represents our core group artists and Unit B next door, which is our creative independent project space. We've put on four exhibitions in the space to date with artists that we don't necessarily work with but feel their work commands an experimental platform. We curate who get's to use the space but then the artist or artists take over the curation during their time in residence. It allows us to work with new artists and curators that we may not come into contact with otherwise.
 JV: Art education plays an important part in Wilding Cran's mission. What do you believe art, artists and galleries are capable of beyond the commercial model?
NW: Before we established Wilding Cran we organised a fundraiser for The Elizabeth Taylor AIDS Foundation, founded by my grandmother. The art and philanthropy model is increasingly popular but it was always something I wanted to find space for even when we were an online platform. We want to be much more than a commercial gallery. As gallerists, I believe we have a responsibility to work with artists in not only a financially profitable way but also in a way that may elicit genuine change within our community. AIDS and HIV awareness is a cause particularly close to me. There's a great organisation in New York called Visual AIDS that supports artists with HIV and AIDS. We're also looking forward to partner with similar organisations such as The Trevor Project to design a workshop around AIDS education here in L.A.
We launched our arts education programme at Wilding Cran a year ago in order to explore this further. We've organised some great workshops with kids in the gallery inspired by the exhibitions on show. They've been able to view and talk about the artwork on the walls in a relatable way and are inspired to make art of their own with the guidance of our artists such as Jason McLean.
JV: There is so much discussion on the influx of artists moving from New York to L.A. How do you feel about L.A. being billed as the next art capital?
NW: It's great! I think there's a reason why New York isn't thriving at the moment and that's because it's too expensive. It's difficult for artists to be creative. I lived in New York before I came out to L.A. I moved straight there after studying fashion at Central St Martins in London. At that time London wasn't full of promise and people talked about the fact that you were going to be broke with a shitty job, even though you had this amazing education. So when I moved, New York really surprised me. You could get a job but there was no creative freedom in it. The city itself was so expensive that despite making a decent salary anywhere else, you'd still be broke and living in a shoebox. It's such a corporate environment. I think the same can be said today. The city is priced-out and is pushing out young creatives. Maybe if you're an established artist you can live there but I believe as an artist at whatever level you're at, you need to be challenged and be around new creative energy as much as possible. I think this exchange is very important. What's not happening in New York is happening in L.A.
INSIDER HOTSPOTS ON EASTSIDE L.A. BY WILDING CRAN GALLERY'S NAOMI WILDING & ANTHONY CRAN
BEST MODERN MEXICAN: PETTY CASH TAQUERIA ARTS DISTRICT
Walter Manzke and Bill Chait opened their second restaurant down the road from us earlier this year. The menu is a take on Mexican street food favorites. We hosted a dinner for the opening of our last exhibition in their outdoor patio. We can't get enough of the Ceviche Bar, which is dangerously in walking distance!
Petty Cash Taqueria
712 S Santa Fe Avenue, Los Angeles 90021
(213) 624-0210
BEST LUNCH SPOT: URBAN RADISH
If you can tear your eyes away from the beautifully curated market full or organic produce, Urban Radish's kitchen counters offer a seasonal menu from breakfast through to dinner; the Dragon Chicken sandwich is a firm favorite.
Urban Radish
661 Imperial St, Los Angeles 90021
(213) 892-1570
BEST COFFEE FIX: DAILY DOSE
Hidden down an alley on Industrial Street, Daily Dose is an oasis in this part of the Arts District. They have everything your mood could want. It's a pretty special place to call it our regular.
Daily Dose
1820 Industrial St, Los Angeles 90021
(844) 932-4593
BEST DATE NIGHT: CAFE STELLA
This is our old dating haunt in Silver Lake and a bit of an institution on the Eastside. You'll find all the classics at this French bistro. Anthony only eats steak once a year and reserves it for a night of Steak Frites at Cafe Stella.
Cafe Stella
3932 W Sunset Blvd, Los Angeles 90029
(323) 666-0265
BEST GIFT STORE: TIME TRAVEL MART, ECHO PARK
One of the most eccentric stores in Echo Park, all proceeds from Time Travel Mart support free programs at 826LA – an extension to 826 National, a non-profit writing and tutoring organisation founded by author Dave Eggers. They run creative writing workshops for kids and publish stories by teenagers.
http://www.timetravelmart.com/
Time Travel Mart
1714 W Sunset Blvd, Los Angeles 90026
(213) 413-3388
BEST WEEKEND ESCAPE: 29 PALMS INN, JOSHUA TREE
We have a 6-year-old son so when we do get away from the city we try really hard to switch off from work. We've been going to the 29 Palms Inn by Joshua Tree National Park for years. Their 1930's Adobe Bungalows are our home away from home. All the food on the resort is from their organic garden and the pool and views out to the Mojave Desert provide total relaxation.
29 Palms Inn
73950 Inn Avenue, Twentynine Palms 92277
(760) 367-3505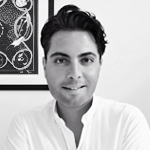 Jonathan is our LA-Based Arts + Culture Editor covering all eye-pleasing things for Melting Butter's Arts & Culture pages. Being a contemporary visual artist working in public spaces around the world as well as a freelance writer for sites and publications like FAD and London Calling, Jonathan brings a rare combination of talent from the worlds of editorial, conceptual art, design and lifestyle. Be sure to check his blog that satisfies his hunger for both high and low culture and follow his tweets @jmvelardi and Instagram @jonathanvelardi

Read about Jonathan's favourite hotspots here.
(Feature Photo: Naomi Wilding, Anthony Cran and Lou the dog – Photo: Jeremy Everett)
Share this