The Curators: Depart Foundation 's Valeria Sorci on culture & La Dolce Vita in LA
On welcoming me into her West Hollywood home, it's clear Valeria Sorci has acclimatised effortlessly to her new Los Angeles lifestyle. Relocating with her husband and two children from Rome a year ago to the beautiful Baxter-Hodiak House – designed by architect John Lautner for the actress, Anne Baxter – Sorci has embraced the 'LA' in 'La Dolce Vita' with all its idiosyncrasies: from almond milk with one's coffee to frustrated tales of parking. But this is no 'Roman Holiday' for her and her husband, Pierpaolo Barzan, founders of Depart Foundation. The art patrons and collectors established their non-profit platform in 2008 in Italy before deciding on a permanent space in Los Angeles to carry on their mission of fostering emerging contemporary art and discourse between Italy and the United States.
Ahead of Depart's forthcoming exhibition showcasing new internet-inspired works by art darling Petra Cortright, Sorci shares her fascination with L.A.'s burgeoning contemporary art scene as well as the art world's steady migration to the 'Wild, Wild West' coast. She's a collector with an appetite and despite looking every inch an Angeleno, one European trait remains: refusing to be confined to the boundary of her own neighbourhood, she takes to the L.A. freeways with gusto and declares, "everyday is a discovery!"
Get ready for a ride of highs, lows and the unexpected across L.A.'s notorious expanse with Valeria Sorci's curated guide to the city she now calls home.
Depart Foundation is open Wednesday to Saturday.
Depart Foundation LA
9105 West Sunset Boulevard, Los Angeles, CA 90069
JONATHAN VELARDI: Why did you bring Depart Foundation to Los Angeles?
VALERIA SORCI: We were coming out to Los Angeles every summer for the last 5 to 6 years and what we noticed was that the city was becoming more sophisticated from a cultural point of view year on year. Many don't recognise L.A. to be one of the most modernist architectural capitals in America; it's usually celebrity, palm trees and the beach, which wrongly label the city – there's so much more to it than that. The name of the foundation also speaks for itself. We wanted to offer a departure from the traditional gallery practices in Rome and hope to continue to do so here in L.A. at the gallery on Sunset Boulevard as well as through collaborations with local institutions. In today's climate, you don't need to be in recognised capitals of culture such as London or New York – Los Angeles offers a lifestyle unlike no other city, with an emerging art scene just as exciting.
JV: Describe the relationship you have with the artists you work with.
VS: Depart Foundation is a platform willing to give emerging artists their first institutional show. We started to exhibit artists of our generation in 2008 such as Ryan MgGinley, Nate Lowman and Sterling Ruby, when they were barely in galleries. Today my process hasn't changed. It's important I meet the artist in their studio and understand how an idea came about. We become very good friends and my kids enjoy meeting the artists very much. As a young foundation ourselves, this approach is natural to us. Working with one artist always leads to another. When I'm down in El Segundo in the artists' studios for example, I ask, 'do you know what's cooking?'. Their community is very tight. They always introduce me to other artists or another studio – many of these artists have assistants who are artists themselves and I'll go and engage with them directly. I tell them to keep me posted and that I'll be back in two years, and they do.
When we relocated last year and began to discuss our programme, I knew I wanted to work with Petra. I met her almost four years ago and we shared a passion for soccer. When I saw her work I instantly fell in love with it. Her practice is innovative and collaborative, even beyond the gallery, such as her work with Stella McCartney. 'Niki, Lucy, Lola, Viola', Petra's forthcoming exhibition at Depart, is going to be fantastic!
JV: How will Depart Foundation continue its Italian-American programming?
VS: I'm a member of the curators' circles at Hammer Museum and LACMA and we hope to further our partnership with the Italian Cultural Institute here in L.A. as well as in Italy. We also believe it's important to encourage a dialogue between an artist and a curator. We like this synergy. Now we're working with contemporary American artists and Italian curators. Unfortunately the pool of Italian artists today is very small. In contrast, Italian curators are rocking the scene and it's wonderful to see an American artist working with an Italian curator or an Italian artist with an English curator, as we did for our inaugural show on Sunset with Gabriele de Santis and Adam Carr.
JV: What does the Los Angeles art scene represent to you?
VS: It's a fantastic time to be here as many artists are relocating to L.A. Galleries are popping up in new parts of town; museums are opening larger spaces and collectors are taking notice. I'm exploring Downtown a lot. I can be walking down a barren street and suddenly find myself in the studio of a collective or a new gallery; I turn a corner and then there's Skidrow. It's overwhelming and stimulating at the same time. Downtown forces you to see the highs and the lows of daily life: what it was, what it is, what it could be and what it will be. François Ghebaly Gallery is a great example of what can be done in the area and why everyone is following suit. This city is not coming to you – you have to conquer it. It's like the Klondike days! The beauty of L.A. is that it's made up of so many different and vibrant art scenes – I'm never bored!
INSIDER HOTSPOTS ACROSS L.A. BY DEPART FOUNDATION'S VALERIA SORCI
BEST NEIGHBOURHOOD: SILVER LAKE
My kids started school in Echo Park so I'm always on the Eastside. There are great restaurants and independent shops on Sunset Boulevard in Silver Lake all in walking distance from each other. The Secret Headquarters is a great comic book shop, which is next door to Vacation Vinyl – they still produce demo tapes – fantastic if you have a vintage car! I also love to eat lunch at Forage a few doors down for fresh, seasonal food.
http://thesecretheadquarters.com/
The Secret Headquarters LA
3817 Sunset Blvd, Los Angeles, CA 90026
(323) 666-2228
Vacation Vinyl LA
3815 Sunset Blvd, Los Angeles, CA 90026
(323) 666-2111
Forage LA
3823 Sunset Blvd, Los Angeles, CA 90026
(323) 663-6885
BEST ART SECRET: ARTURO BANDINI
I just discovered the collective Arturo Bandini who are super fun. They host invitation only pop-up shows for one night. I stumbled upon this beautiful installation on Instagram. I drove all the way to their little space in Downtown the very next day only to find it was already over. I was so upset! I contacted them immediately to find out more about their programme and thought it was wonderful. Now I'm on their mailing list so I don't miss out on future exhibitions.
BEST TASTE OF ITALY: LOCANDO PORTOFINO
I love to cook for everyone so anything Italian is made by me at home. But I'm a busy mamma so Locando Portofino in Santa Monica is a home from home restaurant that serves authentic Northern and Southern dishes. They do a delicious melanzane alla parmigiana – something that would usually take hours to prepare.
Locanda Portofino LA
1110 Montana Avenue, Santa Monica 90403
(310) 394-2070
BEST SWEET TREAT: BOTTEGA LOUIE
My kids love the macarons at Bottega Louie in Downtown – so many flavours and colours all lined up in rows on the beautiful marble countertops. We love to go there when we're in Downtown to admire the patisserie and gourmet market – a stunning setting in the historic Brockman Building on South Grand Avenue.
Bottega Louie LA
700 South Grand Avenue, Los Angeles 90017
(213) 802-1470
BEST LA ESCAPE: SANTA MONICA MOUNTAINS
Sometimes when the kids are at school, I runaway with Pierpaolo to Topanga or Zuma Beach where I'll watch him go surfing. He always says how amazing it is to be on a surfboard in the ocean one moment, looking to the mountain range that you can reach the next. We'll then go up into the canyons – in parts, the view is uninterrupted, wild and natural. Another fifteen minutes through the traffic and you're in Santa Monica – back to civilization again!
http://www.nps.gov/samo/index.htm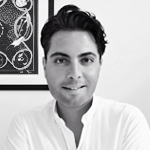 Jonathan is our LA-Based Arts + Culture Editor covering all eye-pleasing things for Melting Butter's Arts & Culture pages. Being a contemporary visual artist working in public spaces around the world as well as a freelance writer for sites and publications like FAD and London Calling, Jonathan brings a rare combination of talent from the worlds of editorial, conceptual art, design and lifestyle. Be sure to check his blog that satisfies his hunger for both high and low culture and follow his tweets @jmvelardi and Instagram @jonathanvelardi

Read about Jonathan's favourite hotspots here.
(Feature Photo: Valeria Sorci, co-founder of Depart Foundation Los Angeles – Photo: Giorgio Possenti)
Share this