The Curators: Broached Commissions' Lou Weis on rethinking Australia's cultural aesthetic
Australia's aesthetic identity has at times been defined by its imperial British heritage (at best) or an insipid form of exoticism (at worst). More recently, however, the island nation's isolation from the international design scene has been inspiring a new generation of Australian creatives to use design to delve into Australia's historical and cultural identity; whilst not shrinking away from the at-times thorny issues of colonialism and globalization.
Melbourne-based design studio Broached Commissions first caught our eye when we saw their eye-catching communal "Feasting Table" design at lauded Canberra art hotel – Hotel Hotel. Intrigued, we discovered more about their unique creative process where curators and guest designers are invited to collaborate on unique collections of design pieces, each examining a pivotal moment in Australia's cultural history while expressing an inherently contemporary sensibility.
To find out more, Melting Butter caught up with Broached Commissions' creative director Lou Weiss to ask him about his favorite sources for inspiration in Melbourne.
Benedikt Josef: Broached Commissions is not a typical design studio. How do you describe what Broached Commissions does?
Lou Weis: Broached is a research driven design studio. We start with a context, such as the Colonial Period, and work with scholars and curatorial experts in that context to develop a design response that connects our past to our present condition.
BJ: You have described Australia as a "receiver rather than a deliverer" of design trends. Can you explain what this means, and how Broached Commissions addresses this?
LW: A primary interest for Broached is the question; what happens to design when it migrates? Since colonial days Australia has been connected to global trade. Literally boat loads of 'stuff' have been arriving here since The First Fleet. The 'things' are accompanied by people, who then use local materials and local capabilities to transform foreign ideas into an Australian made product. We are interested in how design ideas or even foreign objects change in meaning when they move country.
BJ: Broached Colonial and Broached East are some of your projects grounded in a thoughtful response to Australian history. How do the pieces in these collections reflect this historical context?
LW: The core team of Adam Goodrum, Charles Wilson and Trent Jansen are pushed to redirect their daily practice towards a previous generation's consideration of 'good design'. The Birdsmouth Table was a cause of great consternation for Adam Goodrum. He worried the design was too different to his existing portfolio, too reverential to Chippendale. He redesigned it about 8 times, but in the end we made the first design. We had long conversations about why it is today that high design dining tables are drawer free, when people need more storage now rather than less. We found in the past functional elements to tables that have been unnecessarily removed by contemporary trends.
BJ: Broached Commissions' work is predominantly based on a collaboration with other artists and craftspeople. How does working with external designers affect your work?
LW: The guest designers are chosen once the curatorial essay is written. When the context is set it is always clear whose work is applicable: Max Lamb's simple stone chairs fitted the colonial period perfectly, Azuma Makoto's glass cabinets for flowers fitted the mid-19th century which saw the rise of scientific institutions. Guest designers are brought into the collaborative circle and their design development processes inform our own. But also we are given the opportunity to inform international designers about the history of Australian design, something they probably rarely consider.
Lou Weis' Top Five Sources for Inspiration on Australian Design
CITY WINE SHOP

A brilliant example of how migrants have transported Europe to Australia; the architecture of warmth.
http://www.citywineshop.net.au

City Wine Shop Melbourne
159 Spring St, Melbourne
+61 3 9654 6657

CAPTAINS OF INDUSTRY
The cobbler and the barber sit side by side to a lovely cafe.
http://captainsofindustry.com.au

Captains of Industry Melbourne
Level 1, 2 Somerset Pl. Melbourne
+61 3 9670 4405

SUPERNORMAL
Andrew McConnell's latest fully conveys the sex appeal of great service.
Supernormal Melbourne
180 Flinders Ln, Melbourne
+61 3 9650 8688

MELBOURNE RECITAL CENTRE
I love this space purely because of its discrete size an impeccable acoustic engineering. The space commands and receives respect from the audience in a manner that few places can now – that is quite simply because it functions on more than one level, not just visual but also deeply aural.
Melbourne Recital Centre
31 Sturt St, Southbank
+61 3 9699 3333

CAFE AND BAR DI STASIO
My first great restaurant love, it recently expanded to include Bar Di Stasio; the most sophisticated example in Melbourne of artist and designers collaborating to realise a hospitality space.
Cafe and Bar Di Stasio Melbourne
31 Fitzroy St, St Kilda
+61 3 9525 3999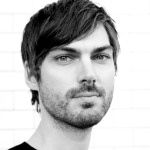 Benedikt is Melting Butter's NYC-based design editor. He's also a freelance architect, designer and writer with work that's grounded in a strong multi-disciplinary focus, encompassing architecture, interiors, product design, curation and visual communication. Right now, Benedikt's creative projects include an illustrated book, a site-specific art installation in the Manhattan streetscape, and several ongoing creative collaborations.Read about Benedikt's favorite hotspots here
Share this