Secret Restaurant Find: Back in 5 Minutes London
Some might say it was foolish to open a restaurant hidden behind a trendy Brick Lane fashion store – if passers-by don't know you're there, how will you ever tempt them in to taste your wares? Back In 5 Minutes has reverted to old school tactics and is an exemplary lesson for restaurants the world over: Dream up a dining experience that inspires and delights, and then execute that dream impeccably – service needs to be engaging yet relaxing, food must be mind-blowingly delicious and novel, and the ambience should have just the right charge and buzz.
A widely accepted recipe for success it may be, but if this brief was easy, everyone would have nailed it – and that's not the case. Which is what makes Back In 5 Minutes even more of a catch.
Through a black curtain at the back of the Brick Lane clothing store Ante, entering the restaurant is a bit of a time warp, with mid century modern furniture, tall wine racks and candlelight. The menu is concise – sip your welcome cocktail as you choose how many courses to go for (I'd recommend the full six-course shebang, for £45), and prepare for a flavour adventure as dishes fly out of the kitchen on a myriad of mismatched crockery.
House-smoked sea trout, English asparagus, smoked duck breast, poached rhubarb & Swedish custard, and salt licorice Eton Mess all impressed, but it was the main of pork belly that really stole the show – the most fantastic cut of crackling-topped meat I've found in all of London, for sure!
When a restaurant is so great it receives full marks on all fronts, the inconspicuousness becomes somewhat of a blessing – otherwise there'd be no hope of ever landing a table!
http://www.disappearingdiningclub.co.uk/index.php?eid=4&page=HM#
Back in 5 Minutes London
Bi5M@disappearingdiningclub.co.uk
224 Brick Lane, London, E1 6SA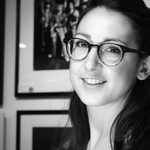 Nina is Melting Butter's vivacious London correspondent who has been tasked with curating the best hotspots London has to offer. Being based in Brixton, South London's notoriously vibrant cultural mecca, makes Nina's quest for the newest, most fashionable, design-centric hotspots a total breeze. Head to her blog Have You Heard Of It?, a jackpot for fellow neophiles looking for fresh reviews on London's restaurants, bars, things to do and see. Follow her on Twitter, Instagram & Pinterest too.
(Feature Image: courtesy of Back in 5 Minutes London)
Share this