Restaurant Find: The Springs LA
Little of Downtown Los Angeles lends itself to the SoCal aesthetic that is so synonymous on the Westside of the city. The landscape is urban and industrial – where the shadows of palm trees are not of real palms at all, but of cellphone towers in disguise. However dig a little deeper amongst the warehouses and semi-trucks littered around the Arts District and you'll discover the quintessential L.A. pastime of wellness for both body and mind at The Springs LA.
The Springs is located along one of the Arts District's main arteries on Mateo Street, parallel to the Los Angeles River. Its unassuming frontage gives nothing away of the 14,000 square feet light-filled multi-use space housing a health center, yoga studio, retail area, organic juice bar and biodynamic kitchen. The different areas are divided by a lush panorama of indoor plants and minimalist brickwork with causal and communal areas adjoining the plant-based restaurant headed by Jasmine Shimoda from N.Y.C.'s Employees Only and Degustation acclaim, in collaboration with chef and health coach Chase Elder and culinary master Gregg Drusinsky.
The all vegan experience starts at sunrise with a coffee menu featuring Californian roasters complimented with a completely dairy-free offering of house-made nutmilks to cleanse-inducing cold pressed juices – cue the 'Firefly' with apple, tumeric and ginger – and nutritious smoothies that are freshly made on-site. SoCal-favourite toasts are given a moreish twist with seed and nut breads – the 'Heirloom Tomato Toast' may have you forgetting about its avocado kin soon enough – or share a 'Rainbow Mezze' of pumpkin seed falafel, organic dips and sea salt encrusted foccacia.
Larger plates feature vegetable sandwiches or wraps as well as flavorsome salads of hijiki, horseradish and beets or thai basil, cilantro, bean sprouts and puffed rice noodles from the 'Horsey Kale' and 'Tiger Vegetable Salad' plates. For taste buds in search of zing, the 'Bam Bam Noodles' bowl with szechuan marinated kelp, pickled shitake, daikon and crispy ginger and garlic hits the spot. The Springs proves vegans can also do deserts with a mix of fresh fruit and hemp ingredients as well as an unashamedly decadent double chocolate mint ice cream sandwich. Afternoons wind down for 'Golden Hour' as the sun spotlights the curated range of organic and biodynamic wine, beer and kombucha lining the wall of the bar. Aperitivo plates of cashew and cacao brittle, blue corn nachos and spicy tempeh sushi sets the mood for evenings of live music, talks and events at this Downtown sanctuary.
The Springs LA
608 Mateo Street, Los Angeles 90021
(213) 223 6226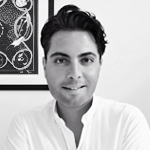 Jonathan is Melting Butter's Arts + Culture Editor covering all eye-pleasing things for Melting Butter's Arts & Culture pages. Being a contemporary visual artist and working in public spaces around the world as well as a freelance culture writer for sites and publications like FAD and London Calling, Jonathan brings a rare combination of talent from the worlds of editorial, conceptual art, design and lifestyle. Be sure to follow his hunger for both high and low culture on his Blog, Twitter and Instagram.
(Photos courtesy of The Springs LA)
Share this