Restaurant Find: Lucky Suzie Sydney
Zacharay Tan has a talent for synthesis. At Lucky Suzie Sydney, he combines the best of his other venues (Devon Cafe's cosiness, the style and creativity of recently-closed Devon on Danks, and the forward-thinkingness of recently-opened Devon at Barangaroo) with a heavy dose of passion and a stellar team.
The fit out, like the other venues in the canon, by Matt Woods and remains true to form: there's exposed, original architecture (such as the weathered brickwork and steel beams punctuating the ceiling) alongside leather cushions, white subway tiles and a menagerie of hoola-hoop-inspired neon lights.
Cocktails by Marco Oshiro Giron – such as an ice-cream float in which sugarcane ice slowly melts in a frosty glass of mango beer, with avocado mousse floating on top; or a pumpkin-infused vodka number, delivered with a dash of walnut oil and a twirl of lemon – complement the menu.
Tan makes fine-dining techniques accessible in scrolls of jasmine flower-topped Kingfish carpaccio, topped with a fish sauce and coconut cream reduction; cubes of agadashi tofu decorated with slivered chilli and coriander; crisp chunks of salty quail, dressed in a lightweight batter; or the kerabu chicken salad, eaten in a betel leaf with green mango and calamansi.
Lucky Suzie Sydney
78 Stanley Street
Darlinghurst, NSW 2010
Australia
+61 2 7901 0396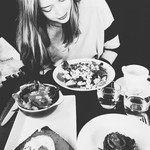 Riley Wilson is Melting Butter's Assistant Editor. A native Sydney-sider who grew up between Australia and the USA, with extensive travels throughout Europe along the way, she is also a freelance writer and editor, contributing to Broadsheet Sydney, The Sydney Morning Herald, and a variety of publications in Australia and overseas. She's deeply passionate about olives, oysters, postage stamps, and punctuation.
(All photos courtesy of Lucky Suzie Sydney)
Share this