Restaurant Find: Harry's Bondi Sydney
Harry's Bondi, a former convenience store-turned-cafe-turned-restaurant off the main drag in Bondi Beach, serves some of the best hotcakes in town. Chef Bryan Callaghan is all about dietary awareness, serving gluten-free, sugar-free dishes rich with nutrition and edible flowers.
His plant-based dishes don't skimp on size; they're full-bodied in flavour and colour. Quinoa fritters (a la falafel) rest alongside hearty chunks of bright avocado, tomato, and cucumber, dressed with pomegranate gems and mint. An airy hotcake, speckled with ricotta and drenched in a buttery maple syrup, comes topped with lemon balm creme, shaved almonds, berries and flowers. Matched with takeaway coffee or a turmeric latte, it's ace.
Organic textures and tones reflect the Bondi vibe in Guru Projects' design form, with shades of beach – light blues; deep, sandy browns; and vast natural lighting – accentuated by the beachy sorts who frequent the space. Hexagons play a big part, with honeycomb-shaped wood shelving for custom-blended coffee and hexagon-topped chairs on which to enjoy the fruits of Harry's labour.
Harry's Bondi Sydney
2/136 Wairoa Avenue
Bondi Beach, New South Wales
(02) 9130 2180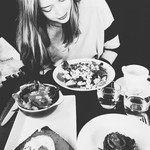 Riley Wilson is Melting Butter's Assistant Editor. A native Sydney-sider who grew up between Australia and the USA, with extensive travels throughout Europe along the way, she is also a freelance writer and editor, contributing to Broadsheet Sydney, The Sydney Morning Herald, and a variety of publications in Australia and overseas. She's deeply passionate about olives, oysters, postage stamps, and punctuation.
(All photos courtesy of Harry's Bondi Sydney.)
Share this