Restaurant Find: Waverly Inn NYC
Situated on a quaint tree-lined street in NYC's West Village is a cherry-bricked 1830s townhouse accommodating Waverly Inn, a time-honored dining institution that'll never go out of style. Inside, a series of intimate low-lit rooms swathed in velvet emanates a warm, buzzing atmosphere reminiscent of an exclusive New York clubhouse. But not just any clubhouse, one that selectively invites the city's most esteemed literary types, movie stars, models, intellectuals and fashion icons to spend the evening rubbing shoulders.
Perhaps in reality, while Waverly Inn isn't a private clubhouse for the city's upper echelons, it isn't all that far off. It's not uncommon for dinner at Waverly Inn to include some kind of celebrity spotting but don't expect Hollywood glitz and glam – this is where notables on the sophisticated end of the fame spectrum choose to have a relaxed, slightly up-market neighborhood dinner. Perhaps you'll spot Diane von Furstenberg or Anna Wintour having a quiet meal at Waverly Inn (which is made possible thanks to the restaurant's strict no photo policy).
But celebrity spotting isn't the only reason to visit Waverly Inn – especially for those of us un-phased by celebrities and who, like me, probably couldn't spot a red-carpet celebrity if they sat down right next to them. If you're in this camp you'll be delighted to hear that the food (along with the celebrity sightings) is definitely something to write home about. Waverly Inn cooks American comfort food with finesse, consistently turning out clever adaptations of classic American dishes like mac and cheese and chicken potpie that don't disappoint.
And remember, in the warmer months; book your table in the picturesque ivy-covered patio. Your eyes will thank you for it.
Waverly Inn NYC
16 Bank St, New York, NY 10014
(917) 828-1154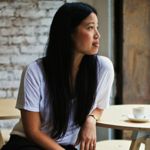 Jenny is Melting Butter's Founding Editor. She's NYC based via Melbourne, London and Amsterdam. Her hotspot recommendations have also appeared in The Observer, ForbesLife, Belle Magazine, National Geographic Traveler Magazine and Gotham Magazine.
(Photo of Waverly Inn NYC by Jenny Nguyen-Barron)
Share this