Restaurant Find: Nickel & Diner NYC
At the crossroads of SoHo, Little Italy, and Chinatown is design oriented Nickel & Diner NYC, a throwback to the five and dime diners bringing American classics to a melting pot neighborhood.
If you're expecting greasy spoon home fries and syrupy milkshakes, you won't find that here.  Executive Chef James Friedberg (formerly of a slew of Michelin-starred restaurants, including Le Cirque and Aureole) purposefully eschews from typical diner fare, rather focusing on elevating classics to more refined versions of themselves, while playing to the appeal of modern palates. For example: Salmon Lox on Baz Pumpernickel Everything Bagel with cucumber, avocado, farm spinach, and citrus hollandaise alongside a Kale Cashew Bowl with poached egg, roasted sweet potato, avocado, asparagus, and green beans.
Coffee, an integral part of diner culture, is further emphasized by Nickel & Diner's sleek stand-alone, full service coffee bar helmed by veteran barista Alexandra Korves. It's stocked with Nobletree Coffee for espresso-based beverages – all pulled from a custom Kees van der Westen Spirit espresso machine. N&D also offers cold-brew and nitrogen-infused cold brew on draft, as well as standard drip and pour-over brewing methods. If you're in a hurry, get your coffee to go in art deco inspired to-go cups featuring black and white patterns designed by creative director and managing partner Ivy Tsang. Pastries are baked in house by pastry chef Scott Johns (formerly of The French Pastry School, Dinex at Bar Boulud and Boulud SUD) and come in an array of refined and classic varieties: daily scones (like a red wine cherry), gluten-free chocolate macadamia cookie, daily pound cake (including lemon and apple cider), macarons, honey brioche, and cinnamon buns.
Larah Moravek and William Oberlin of Dutch East Design bring a sleek and modern interpretation of old-school diner aesthetic, borrowing from streamlined art deco with contemporary accents like spherical metal light fixtures, blue leather banquettes, and black geometrically patterned tables juxtaposed against its nearly century-old pagoda-style building setting.
nickelanddiner.com

Nickel & Diner NYC
1 Howard St.
New York, NY 10013
(646) 870-6100
Mari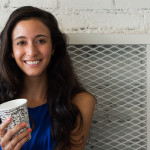 sel is 

New York City based

food and travel writer

for publications like Eater, Tasting Table, Trends on Trends, Honest Cooking, and Melting Butter.  

She has produced culinary events and neighborhood dining guides with James Beard award-winning, Michelin starred, and up-and-coming chefs across the US like Jessi Singh of Babu Ji, Erik Bruner-Yang of Maketto, and Carrie and Rupert Blease of Lord Stanley.

@BreadButterNYC

is her personal food Instagram account, with over 16.6k+ followers which documents her culinary and restaurant related projects, events, and daily eats.
(Images courtesy of Nickel & Diner/Jonah Rosenberg and Marisel Salazar)
Share this