Restaurant Find: Legs London
Not a week goes by where Hackney doesn't see a new attention-grabbing restaurant opening. Legs London, the latest solo project of Australian chef Magnus Reid (of the now closed Rooftop Café), is a decidedly laid-back affair with easy, contemporary dishes, packed with deliciously original flavors.
Occupying an airy corner site of a two-storey house in the midst of Hackney Central, the pale pink walls, vintage wicker lamp shades, pots and plants serve as a perfect backdrop for a quick coffee with a berry-filled french toast or a relaxed, boozy dinner with small plates of excellent lardo, oysters, shishito peppers and girolles with polenta.
You'll spot Reid here all the time – working on the daily changing menu and overseeing the short but concise wine list. Having formerly worked at St John, Fergus Henderson's influence is visible here: everything on the menu – from a chicken sandwich to pork belly with caramel and sage – is seasonal, well-balanced and ingredient-led. Legs is open for walk-ins but the place gets busy quickly – come early to get a space in the bar where you almost feel part of the kitchen action.
Legs London
120-122 Morning Ln
London E9 6LH, UK
+44 20 3441 8765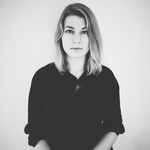 Anna is our London-based food contributor. She also writes about food for Conde Nast Traveller and worked as Editor in Chief for Vogue.ru in Moscow for five years before moving to London. Anna is studying more about her passions, wine and hospitality. Follow her on Twitter (@_frostanna) and Instagram (@frostanna and @greytable).
(All photos courtesy of Legs London)
Share this