Cafe Find: El Rey NYC
El Rey Coffee Bar and Luncheonette is far, far more than its name implies. By day, it's indeed a place for coffee lunch, serving up a California style menu to a young, neighborhood crowd. But by night it transforms into chef Gerardo Gonzalez's playground, and that's when the fun really begins.
As a place for coffee, El Rey is at the top of the game. While the space is tiny, it feels intimate without being cramped. With their floor to ceiling open windows and small but open kitchen, the space makes El Rey a place where you chat with the chef, hang out outside, drink coffee on the sidewalk, and even slow down and wait for a few minutes. A rare find in New York.
Perhaps customers are okay to wait knowing what they're waiting for – avocado and egg topped salads, bowls, and small plates that make you say "I've never had an avocado that tasted like that."
Come 6pm, however, the menu transforms, and the dinner here is not to be missed. Think somewhat Spanish inspired plates of sardines, octopus, chorizo, or papas bravas. They're small and sharable enough to get them all, so please, please do. The flavors are bold and will excite and delight.
El Rey NYC
100 Stanton St, New York, NY 10002
(212) 260-3950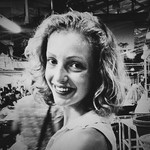 Dana is originally from Washington, DC, is now based in NYC, but is most excited when she's traveling. She's a street-food obsessed food and travel writer who spends her free time watching Anthony Bourdain reruns and exploring the nooks and crannies of her NYC neighborhood, Chinatown. Her heart is torn between Paris, the Greek Islands, Japan, and Penang, so her dream last supper would look something like a four course meal of sashimi, laksa, fresh grilled octopus, and a heaping plate of gooey French cheese.
(Feature image courtesy of Emily Johnston)
Share this