Restaurant Find: De Maria NYC
Sometimes, you can tell a restaurant is about to become your 'spot' – even before it opens. You hear about a new place opening with bright interiors, all-day offerings of grain bowls and small plates, and you just know. You can picture yourself becoming a 'regular' there – sipping coffee in the morning and wine in the evening. De Maria NYC, on the edge of Nolita, is that place.
Chef Camille Becerra opened De Maria in early 2017, and it was destined for success from the start. It has all the makings of a 2017 Instagram sensation (and it has indeed become one), but the place is far more than just a place for a food-gram. The food is visually stunning, yes, (Becerra has become known for her mastery of the colorful grain bowl), but it's equally sophisticated, complex, and flavorful. Her take on avocado toast is nearly unrecognizable as that ubiquitous cafe food, cured mackerel and seaweed creep into grain bowls, and the banana bread might be the best in NYC. Chef Becerra doesn't rely on dotting her menu with buzzwords of the food world, but rather she takes favorites like bone broth and turmeric and transforms them into something all her own.
While De Maria's breakfast and lunch options have already gained a following, don't sleep on dinner. Like the rest of the day's offerings, the food is beautiful and deceptively simple – packing far more flavor into delicately designed plates than what initially meets the eye. And like the food, the design of the place is light and intentional, no detail at De Maria is left unconsidered. From the mugs, to the tiles, to the smattering of sesame seeds atop your morning avo toast, it all comes together to create the perfect place to pass the day.
De Maria NYC
19 Kenmare St, New York, NY 10012
+1 212-966-3058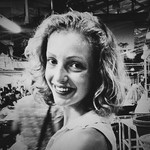 Dana is originally from Washington, DC, is now based in NYC, but is most excited when she's traveling. She's a street-food obsessed food and travel writer who spends her free time watching Anthony Bourdain reruns and exploring the nooks and crannies of her NYC neighborhood, Chinatown. Her heart is torn between Paris, the Greek Islands, Japan, and Penang, so her dream last supper would look something like a four course meal of sashimi, laksa, fresh grilled octopus, and a heaping plate of gooey French cheese.
(All photos courtesy of De Maria NYC. Photography by Nicole Franzen.)
Share this