Restaurant Find: Belon Hong Kong
Hong Kong's culinary scene is reaching new heights with exceptional additions of progressive and culturally-connective dining scenes. Without a doubt, Belon Hong Kong is turning heads with its neo-Parisian take and brightly-lit yet cosy interior, terrazzo tabletops, and wood and blue leather seating. After a warm welcome by the maitre-de at the entrance of the wooden double doors, inside the music is vibrant and contemporary, carefully selected by Belon's in-house music staff.
Belon, firmly and conveniently situated on the dynamic and lively Elgin Street in Hong Kong's Soho district since its opening in March 2016, was designed by architect Sean Dix – a staple among the Hong Kong hospitality scene for his previous design of Yardbird, Okra, Ronin, and Carbone to name a few.
Belon's French-inspired meals are an exciting addition to Hong Kong's growing and diverse food scene, from local cha chaan teng (tea restaurants) depicting the early Hong Kong era, to a new wave of international chefs introducing modern cuisines on a global scale. Belon presents a fresh take on the local currency of shared meals, providing group or singular diners with local and seasonal ingredients. The culinary direction comes from head chef Daniel Calvert's ten years of experience in Michelin-starred kitchens, including The Ivy, Pied à Terre, Per Se and Epicure at Le Bristol. For Calvert, it's all in the details; at Belon, handmade and naturally leavened bread is baked daily, a feat in itself against the availability of local ingredients and Hong Kong's notorious humidity.
A printed menu, which adapts to seasonality, is printed daily. A starter selection could include tarama and karasumi tart, to rosette de lyon, and oyster tartare paired with a perfectly balanced sauce. Next, a taste of the chestnut tortelloni with fire sardo and shima aji "salad niçoise". A notable mention is Belon's incredible foie gras "au torchon" with blackberries: an unlikely yet completely extraordinary pairing.
The proudly diverse wine list owes itself to head sommelier Sandeep Arora, who presents carefully selected Australian, French and Italian wines. The head bartender's in-house infused gins champion experimental inventiveness, particularly with the lavender and lemongrass-infused gin cocktail.
For dessert, go sake-poached pear with toasted rice ice cream or the signature millefeuille with crispy layers of pastry and amoretti fig jam. But for a ride to heaven and back, it's their palet d'or with effortless chocolate layers that melt in the mouth.
Most importantly and impressively at Belon is chef Calvert's dedication to serving the finest ingredients, whether sourced in Hong Kong or in abroad; his commitment to the highest quality produce is exceptional. Could you call this French cuisine? It's simply an ingeniously innovative nod to great food.
Belon Hong Kong
41 Elgin St, Central, Hong Kong
Tel: +852 2152 2872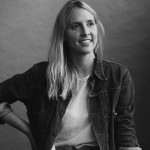 Joanna is the co-editor and founder of Ala CHAMP Magazine, a London and Tokyo-based biannual printed publication focused on curiosity and investigations into creativity and cultural insight. She is Tokyo-based, and co-founder of agency Champ Creative where she is Art Director and Producer, and is a contributing writer for various publications in travel, art, architecture and design.
(All photos courtesy of Belon Hong Kong.)
Share this