Restaurant Find: Bang Sydney
With its blazing neon red light beckoning, this new establishment is impossible to overlook. Bang, recently opened on Crown Street, is a new restaurant serving up Bangladeshi street food on the streets of Sydney.
Bang is housed in a high-ceilinged room with exposed brick, timber rafters, and playful details – the dishes are presented in scrolls and sheets of newspaper print (from the day Bangladesh declared independence), while strategically-placed Arne Jacobsen alphabet plates spell out B.A.N.G. on the tables.
Bang is a rare find for those who want to take their tastebuds on an adventure beyond the more commonly-found cuisines. Headed by Nicholas Gurney (Co-owner of Farmhouse in Kings Cross) and Bangladesh born-and-raised head chef Tapos Singha (Est, Bills, Gowings Bar & Grill and Lucio's) this new restaurant offers a sophisticated take on Bangladeshi street food, artfully avoiding being overwhelmed by chili firepower.
Instead, Bang features a fun selection of share plates – be sure to order the Dal Puri (little fried explosions of flavour in your mouth) and the Bengali 'Potato Chop' (a spicy croquette zipped with mustard seed). If you are after something heartier, try the Wagyu Tri Tip Curry or Kacchi biryani with goat, kalizera rice and saffron. Be sure to save some room for dessert – the Kulfi popsicle and rum drunk doughnuts are delicious.
Bang Sydney
3/410 Crown Street, Surry Hills, NSW 2010, Australia
+61 2 8354 109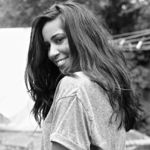 Nikita is Melting Butter's Sydney contributor who openly admits she's continually distracted by design. She writes about design for Trendland, her own design blog, which is fittingly named Distracted By Design and also manages communications at an architectural firm. She'll be transporting you to Sydney and beyond and showing us the coolest, most inspiring design hotspots she's uncovered.

Read about Nikita's favourite hotspots here.
(All images courtesy of Bang Sydney)
Share this