Ponytail Journal on Bangkok's Emerging Creative Community & Where They Hang Out
Something is stirring in the frenetic city of Bangkok and it's urging us to pay the thrillingly chaotic city a visit. Sure, a visit to Bangkok is going to have you navigating a web of shopping malls, colossal skyscrapers and street food vendors – and perhaps it's these things as well as the city's mainstream tourist attractions that you've come for. But we're here to tell you there's plenty more to Bangkok than its ornate temples, the infamous red light district and the well-worn route to the country's paradisiacal beaches.
Bangkok's young, hip and creative denizens are taking cues from the international art, fashion and design worlds and forging a uniquely Thai path for the city's burgeoning contemporary creative scene.
To find out more about what's going on in Bangkok's creative community, Melting Butter caught up with Bangkok-based Lauren Yates, the force behind one of our favourite spaces on the web – Ponytail Journal – a blog that aims to inspire the pursuit of the good life. Yates brings an adorably quirky flavour with a heavy inclination for a distinctive style that she fondly coins W'Menswear – a unique pairing of mens heritage style with touches of femininity – proving to us that every cool girl is half boy.
JENNY NGUYEN-BARRON: Tell us about your background, your global journey to Bangkok and why you've chosen to base yourself out of Bangkok
LAUREN YATES: I was born in Hong Kong, raised in Thailand and Australia.  Bangkok has always been a point of return, and watching it evolve over my lifetime has made me realise how much growth and change is a powerful force in Asia.  After graduating from my Fine Arts degree in Sydney and working there for a few years, I came back to rediscover my Thai-ness, so Bangkok is where I still find myself today.  It's such an exciting place to base myself.
NGUYEN-BARRON: Why did you start Ponytail Journal?
YATES: Ponytail Journal sprouted from my passion for life.  Sounds really vague, but I'm that kinda gal who would rather spend my time fishing, surfing, cooking, and exploring if I could… So I created a world where this was viable.  (It's still a crud of work though!)
NGUYEN-BARRON: Describe the term W'Menswear
YATES: I fell in love with mens clothes (workwear, denim, and heritage pieces) during my time in Australia, where I found myself fishing every weekend, learning new carpentry skills from my pals, making furniture out of scrap timber, and following some really great menswear blogs.
My wardrobe is ultimately full of great vintage workwear, military, denim, and heritage mens pieces, and I have grown fond of how these garments tell stories, referencing greatness throughout history.  W'Menswear was a term that I played with to describe my own style, being a girl in a man's world so-to-speak.  It has spoken to many great gals all over, who take life by the scruff of the neck.  At the moment, I find my Frankenstein coming to life in its latest phase, where I'm currently working on my own line of denim workwear for ladies.
NGUYEN-BARRON: When people think of Bangkok they often think about sex shows, full moon parties, lady boys and the like. Is there another side to Bangkok that you think people should know about?
YATES: Bangkok is an extremely metropolitan city, growing exponentially.  It's beautiful in it's perfect harmony between grungy sophistication, at one hand you can eat delicious food for next to nothing on the side of the road, or dine at an incredibly forward thinking environment that speaks to newness in the food world.  I think about a great restaurant like Bo.Lan when I say this.
When I leave Bangkok for just a month, I come back to a new mall sprouting up in the heart of the city (a scary thought actually), or a bundle of new restaurants seeming to have popped up overnight.  Thailand has a culture of connectivity openness, and this is a great breeding ground for change.  Thais catch on to trends really quickly, and transform them into their way so it is digestible to a crowd that is hungry for the next new thing.  For example, I have watched a denim scene form, developing into a market that is very informed about quality and style, to the start of the potentially huge global force that is Thai made denim.  All in the space of a few years.  Things catch on like wildfire so to speak.
NGUYEN-BARRON: Is there anything you can tell us about the creative, art, fashion, design scene in Bangkok? Are there any trends emerging that aesthetically inclined travellers should be aware of?
YATES: At the moment the city is becoming more lush with contemporary art, and I see that the scene here is growing well, fertilised by neighbouring Asian countries.  We get some great shows run through like the recent Ren Hang exhibition at an interesting mixed use space in old town called Soy Sauce Factory, great installation works by emerging and mid career artists at Rirkrit Tiravanija's gallery project 'Gallery Ver'.
Up North in Chiang Mai, expect a huge art community that breeds very free thinking, with a really cool arts and crafts scene that are going back to ancient techniques to produce objects that are ephemeral and remind us of our presence in the Universe.  I would say that Thailand is seeing a new generation of contemporary artists (like Korakrit Arunanondchai) who echo the incredible exposure of culture and information that we experience on the Internet, making works that feel relevant to Thai life while exploring strangeness with foreign ideas.
When I spend time in Thailand, I will always be looking for rare antique textiles that have taken lifetimes to make, handmade earthenware objects, naturally dyed fabrics, vintage military and workwear, and experiencing the world through works by Thai street artists like Rukit, who have painted the city in what I can only describe as Thai 'nowness'.
NGUYEN-BARRON: Function or Form?
YATES: Both
NGUYEN-BARRON: Daily Reading List?
YATES: The Vintage Showroom's blog, RAWR denim, A Continuous Lean, and Man Repeller.
NGUYEN-BARRON: Latest musical discovery?
YATES: Jack Grace
NGUYEN-BARRON: Favourite Instagram account?
YATES: @terrapinstationers_ (despite potty mouth)
NGUYEN-BARRON: Most prized possession?
YATES: My cowboy pyjamas
PONYTAIL JOURNAL'S COOL BANGKOK GUIDE
The Cabochon Hotel
A boutique hotel that feels like a passionate labour of love for heritage.  The hotel's Colonial front is handsomely matched by an interior that showcases an impressive collection of antiques, Asian and Western.  Lounge on one of their grandaddy Chesterfields in their book lounge, and take a peek at their bar illuminated by beautifully old surgery lamps.  Afterwards, you might just mosey into their beautiful dining room that has been curated with a sense of nostalgia for Thai-Chinese tableware, for Northern Thai cuisine that rates very well in my books.
The Cabochon Hotel Bangkok
14/29 Soi Sukhumvit 45, Sukhumvit Road, Klongton Nua, Bangkok 10110, Thailand
+66 2 259 2871
Khua Kling Pak Sod
If you're into spicy food, then Southern Thai food will give you a run for your money.  This is a family run restaurant that also focuses on serving you good produce, cooked honestly, and very authentically.  Order 'bai liang pad kai', a typically Southern vegetable that has a buttery bite and is simply stir fried with garlic and egg to show off the vegetable's unique texture and flavour.  You also want to try the restaurant's namesake, 'kua kling', which is pork fried in a dry curry paste and served with fresh vegetables to cool your tongue after a hit of this flavoursome fire-cracker.
https://www.facebook.com/KhuaKlingPakSod
Khua Kling Pak Sod Bangkok
98/1 Soi Thonglor 5, Sukhumvit 55 Rd Bangkok, Thailand
+66 2 185 3977
The Vintage section of Chatuchak Weekend Market
A go-to for vintage womenswear, menswear, and workwear lovers.  Vendors here have a trained eye for things in trend, but prices are still verrry reasonable.  A good haul here would include a few vintage military watches, Heritage brand pieces, some French indigo workwear, or a pre-loved NBA shirt (for just about any team).  You get the picture, it's the vintage hypermarket.
Kampaengphet 3 Road | Khwaeng Lat Yao, Khet Chatuchak, Bangkok 10900, Thailand
Asia Herb Association
What's a visit to Bangkok without some quality pamper time?  The Asia Herb Association is busy morning to night with a huge Japanese clientele, getting their morning, midday, and post-meal massages.  Their aromatherapy game is A-plus.
http://www.asiaherbassociation.com/en/
Asia Herb Association Bangkok
20/1 Sukhumvit 24 Alley, Khlong Tan, Khlong Toei, Bangkok 10110, Thailand
+66 2 261 7401
Barka Bar
This chipboard cladded shoebox space, tucked behind a bicycle shop in the 'cool kid' part of town Aree, is the definition of a bottle rocket.  They make cocktails that pack a punch, and plate up very hearty food.  The guys behind it know a thing or two about mixology and aren't afraid to try 'bold' out for size, even when their kitchen is smaller than a closet.
https://www.facebook.com/barkabarari
Barka Bar Bangkok
Phahonyothin Soi 2, Bangkok, Thailand
+66 94 461 3145
Bo.lan
Chefs Bo and Dylan are the mother and father figures of Bo. Lan, a Thai eating experience that reflects goodness from the land as well as our cultural history, while somehow relating to a very contemporary eating context.  Their cooking is an artisan craft that comes from a wonderful understanding of food and provenance.  The restaurant nurtures a sensory experience that food-sonifies 'Thailand' in a timeless space, and elegant dining context that makes reference to beginnings.
Bo.lan Bangkok
24 Sukhumvit 53 Alley, Khlong Tan Nuea, Watthana, Bangkok 10110, Thailand
+66 2 260 2961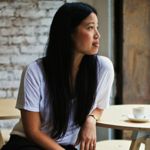 Jenny is Melting Butter's Founding Editor. She's NYC based via Melbourne, London and Amsterdam. Her hotspot recommendations have also appeared in The Observer, ForbesLife, Belle Magazine, National Geographic Traveler Magazine and Gotham Magazine.Read about Jenny's favourite hotspots here
(Feature Photo: By Eric Kvatek)
Share this