Modern Art Museum Find: Moderna Museet Stockholm
When island hopping in Stockholm be sure to make Skeppsholmen your first port of call. Home to Sweden's national museum of modern and contemporary art, Moderna Museet Stockholm boasts one of the finest international collections in Europe as well as a brand identity designed by none other than Robert Rauschenberg.
View Rauschenberg's iconic mixed media sculpture 'Monogram' (1955-59) in the collection that spans from Early Modernism to the contemporary via Expressionism and Pop Art. Works by Picasso, Dali and Francis Bacon feature alongside Donald Judd, Barbara Kruger and a host of Swedish talent – including Vera Nilsson, Sven X-et Erixson and Nils Dardel – in the award-winning galleries designed by Rafael Moneo.
Lars Tunbjörk's surreal landscapes of everyday life and the manipulated imagery of Maria Miesenberger are part of the highlights in the museum's comprehensive survey of photography and photo-based art from the 1840s to the present day.
Moderna Museet Stockholm
Exercisplan 4, 111 49 Stockholm, Sweden
+46 8 520 235 00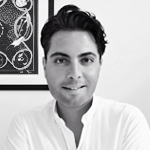 Jonathan is our UK-based correspondent covering all eye-pleasing things for Melting Butter's Arts & Culture pages. Being a contemporary visual artist working in public spaces around the world as well as a freelance culture writer for sites and publications like Ohh Deer and London Calling, Jonathan brings a rare combination of talent from the worlds of editorial, conceptual art, design and lifestyle. Be sure to check his blog and his art practice, which satisfy his hunger for both high and low culture. Follow his tweets too: @JMVELARDIRead about Jonathan's favourite hotspots here.
(Feature Photo: Photography exhibit at Moderna Museet Stockholm by Staffan Wingborg)
Share this