Boutique Hotel Find: Le Pigalle Paris
Le Pigalle lies on Rue Frochot, in an area dubbed 'La Nouvelle Athènes' (new Athens) developed in the 1820s for the rising professional classes of the new industrialist era. Influenced by London's urban architecture, neoclassical flourishes meet with colourful Place Pigalle and the heady cultural mix found on the southern slopes of Montmarte. Charlotte de Tonnac and Hugo Sauzay of Festen Architecture have embraced a multitude of genres and periods in the 39 room and one-suite design, creating a springboard for the impressive list of experts invited to contribute to the hotel. Owner Valéry Grégo set out to build a place to meet the neighbours, starting with some well known and lesser known names as collaborators.
Perch at the communal table to enjoy coffee provided by Nicolas Clerc of Télescope café and select some reading material from the press stand by Hussam Mouli from Kiosque in the City. The hip hotel staff – who don an 'anti uniform' influenced by the growing reputation the area has as a streetwear mecca – work to music by resident musicologist Victor Kiswell who grew up in the neighbourhood. His specially crafted soundtracks featuring Satie, Fréhel and 1990s hip-hop are played throughout the hotel, including the bedrooms and bathrooms. In the basement you will find Kiswell's influence extends to the selection on the restored jukebox. Rooms feature sumptuous linens, iPads and are personalised with either open plan bathrooms, leather upholstered bars or a turntable, complete with a curated selection of vinyl. Wake-up to the scent of local 'sugar dealer' Sébastien Gaudard who supplies morning croissants and desserts of the day. 
It would be remiss to ignore Pigalle's long association with sex. The risqué artwork by Jean André and nude photography by Pierre-Ange Carlotti are a nod to the area's provocative past. The striptease scene has been gradually disappearing over the last 30 years; today an energy lives through artists and creatives. Granted, there is a stripper pole in the hotel lobby and condom packets on display like mints, but at Le Pigalle these details are immersed in a varied pool of passions. Feel free to get swimming.
Le Pigalle Paris
9 Rue Frochot, 75009 Paris, France
Phone: +33 1 48 78 37 14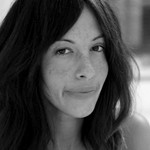 Reemé is a creative director based in London. After a few years working as a freelance fashion stylist, she now produces content and events for landowners, agencies and brands. Destinations that blend hospitality with retail excite her most. @reeme
(All photos courtesy of Le Pigalle Paris)
Share this