Fantasy Restaurants: Nicole Franzen's Best of NYC
Clean, classic, minimalistic, with a mixture of old and new – these are not only the eye-pleasing things we're constantly searching for at Melting Butter – they're what we've found in our latest city curator and major Insta-crush Nicole Franzen.
A Brooklyn-based food, lifestyle and travel photographer, Nicole's work has built a cult following of creative people in New York and beyond. Her Instagram feed is a daily source of visual inspiration into the places she goes, the food she eats, the spaces she visits and the quiet, thoughtful and subdued way she presents her life (which seems to be constantly bathed in glorious natural light).
For this edition of The Curators, we talked with Nicole about fantasy restaurants and also asked her to curate an NYC restaurant guide full of the hotspots that satiate her fantasy restaurant ideal.
NGUYEN-BARRON: Describe your fantasy restaurant
FRANZEN: I love a cozy intimate restaurant over a spacious fancy one. I love to sit at the bar and enjoy people watching. The food would have to be delicious, well executed and comforting.
NGUYEN-BARRON: In your opinion, what characterizes the restaurant scene in Brooklyn vs. Manhattan?
FRANZEN: Brooklyn has a more relaxed vibe but so does much of downtown Manhattan. We are on a similar wavelength. A restaurant in Nolita could be comparable to a spot in Williamsburg. Except in Brooklyn the service tends to suffer a little. I love and go to both for different reasons. Manhattan can typically pull off a slightly higher end clientele too.
NGUYEN-BARRON: What's next for you?
FRANZEN: In my immediate future I am heading down to South America for a month. I like to escape these east coast winters. I am going to relax, regroup and shoot personal projects. The next year is going to be great!
NICOLE FRANZEN'S NYC RESTAURANT GUIDE
THE BRESLIN
I adore April Bloomfield, both her and her food. The Caesar Salad will knock your socks off; her fish and chips are the best I've ever had. Love the pub vibe with super delicious refined food.
16 W 29th St, New York, NY 10001
(212) 679-1939
NAVY
My dear friend Camille is the chef of this awesome seafood spot in Soho. The interior is spot on with a nautical vibe. The food is awesome.
137 Sullivan St, New York, NY 10012
(212) 533-1137
REYNARD AT THE WYTHE HOTEL
Love this space, its super close to my house. I go for the burger! Dry aged beef with caramelized onions and homemade mayo. Yes. The rooftop is great for a cocktail and the best views of Manhattan.
80 Wythe Ave, New York, NY 11211
(718) 460-8004
MAISON PREMIERE
One of my favs. I go for oyster happy hour and drink from their amazing cocktail list. The interior makes you feel like you are in New Orleans in the 1920's.
298 Bedford Ave, Brooklyn, NY 11211
(347) 335-0446
FIVE LEAVES
My home turf, I've been going to Five Leaves since we both moved into the neighborhood 6 years ago. I love going for brunch, their pancakes are legit and I love myself a big brekkie. The best place to sit outside people watch and have a drink and snack.
18 Bedford Ave, Brooklyn, NY 11222
(718) 383-5345
PRUNE
A classic, a standby and it never disappoints. Gabrielle is a culinary genius. I heart prune.
54 E 1st St, New York, NY 10003
(212) 677-6221
CARACAS
Arepas and micheladas is the way to this girl's heart. I've been a lunch regular at Caracas for a long, long time. La del Gato an arepa filled with salty cheese, fried plantains and avocado, topped with their spicy sweet hot sauce. The best micheladas I've ever had made with sugar cane. Affordable, always delicious and fun.
http://www.caracasarepabar.com/brooklyn.php
291 Grand St, Brooklyn, NY 11211
(718) 218-6050
SALTIE
Hello to the world's best sandwiches. The flavor profiles are genius. My fav The Scuttlebutt consists of pickled vegetables, feta cheese, olives, pimenton aioli, capers and hard-boiled egg on the most perfect focaccia bread you've ever had. I die.
378 Metropolitan Ave, Brooklyn, NY 11211
(718) 387-4777
RUSS & DAUGHTERS CAFÉ
A New York institution and no one makes a better smoked fish and bagel. I personally go for the smoked sable on a poppy seed bagel with goat cheese cream cheese with the regular accompaniments tomato, onion and capers. Also their Smoked Trout Salad with watercress and potatoes tossed in a mustard caper vinaigrette. Happy days.
http://www.russanddaughterscafe.com/
127 Orchard St, New York, NY 10002
(212) 475-4881
CAFÉ MOGADOR
I always crave a delicious salad. I love Café Mogador's Greek Salad. I can't go without getting hummus, babaganoush and labne. Their mint tea is great. I love going for their brunch special too. Always consistent and delicious.
133 Wythe Ave, Brooklyn, NY 11249
(718) 486-9222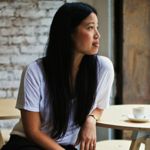 Jenny is Melting Butter's Founding Editor. She's NYC based via Melbourne, London and Amsterdam. Her hotspot recommendations have also appeared in ForbesLife, Belle Magazine, National Geographic Traveler Magazine, Gotham Magazine, JBFTaste, and New York Observer's Very Short List.Read about Jenny's favourite hotspots here
(Feature image: Nicole Franzen – Photo: Courtesy of Nicole Franzen)
Share this