The Editors: CURA. magazine 's Ilaria Marotta & Andrea Baccin on their passion for art and Rome
Scan any art newsstand and your eyes will be sure to lock onto the latest issue of CURA. Magazine with its striking cover of artworks by international emerging and established artists. Founded by Ilaria Marotta and Andrea Baccin in 2009, CURA. has fast become the art crowd's favorite read thanks to its commitment to the voice of curators, artists and network of global contributors who explore new dialogues surrounding today's contemporary art practice. Marotta and Baccin are not only editors, but also curators of a multi-dimensional platform that includes a publishing house and exhibition program. We admire all these aspects at Melting Butter, but in particular we approve CURA. is proudly based in Rome – a city that has been long overlooked and misunderstood for its contemporary energy.
Rome's award-winning MAXXI museum, London's Serpentine Galleries, Hans Ulrich Obrist and Gunnar Kvaran as well as independent galleries and foundations in Italy and around the world are only a few of the partnerships CURA. has collaborated with to date. A conceptual restaurant and hotel lobby continue the platform's drive to push the boundaries of visual language and exhibition formats through intervention and public accessibility.
Our Arts + Culture Editor Jonathan Velardi talks with CURA. on the balancing act between publishing and programming, Rome's return to the contemporary limelight and the best hotspots in the Eternal City.
Jonathan Velardi: How and when did you decide to launch CURA.?
Ilaria Marotta & Andrea Baccin: We hold backgrounds in art history, curatorship and creative direction. One of our first experiences working together was launching a nomadic gallery in Rome. The concept was aimed at implementing public art projects in connection with the city and exploring places that had been abandoned or appointed for other purposes. This project was the impetus to find CURA. in 2009. Our intention was to create an international platform of curators, artists, ideas and projects that would freely debate between a paper space and a physical gallery. Once we launched the magazine, the publishing house with the production of books and editions followed as well as our self-sustainable BASEMENT ROMA space, bookshop and international program of off-site projects. Operations are based in Rome, but our contributors are around the world – it's become a global network.
JV: How important to you is publishing a magazine?
IM & AB: It's very important to us. Producing a magazine today is an act of resistance, almost an artisan activity with the proliferation of digital media and virtual realities. Every issue requires decisions – the choice of paper, the layout, the balance between content, text and imagery – it's anachronistic, but the magazine as object is just as important to us as what's inside it. At a faster pace to our magazine, our online platform allows us to publish daily updates of exhibition reviews, reports from our basement space and book releases. When Ian Cheng presented his new work 'Bad Corgi' at the Serpentine Galleries, we were able to broadcast online almost in real time; at this year's Frieze London we coincided the release of issue 23 with Jon Rafman's 2015 trilogy 'Erysichthon' and its first online presentation on our website that included a panel discussion between the artist and curator Maitreyi Maheshwari, Programme Director at Zabludowicz Collection. 
JV: CURA.'s cover is always eye-catching – explain the design direction for each issue.
IM & AB: The cover always features art rather than artists. We prefer to focus on communicative artworks that hold their own strength and impact, regardless of an artist's career. This allows us scope to showcase a range of works, from Camille Henrot in 2013, who had just been awarded the Silver Lion at the 55th Venice Biennale, or picture generator Elad Lassry, to new generations of artists such as Oliver Osborne, Andrew Norman Wilson and Zoe Williams.
JV: CURA. is more than a magazine – what is its relationship with institutional and independent spaces?
IM & AB: With institutions and museums we mainly work on commission and with independent spaces, such as our own BASEMENT ROMA, we nurture relationships that evolve into the sharing of content, concepts and partnerships, often in an exchange arrangement. Recent off-site projects have included a touring exhibition that directly involved the curators of the respective spaces and which came to life in BASEMENT ROMA, followed by the Fondazione Giuliani in Rome and finally at the Kunsthalle Lissabon in Lisbon. Another example of our collaborative process took the form of a 'Food of the World' restaurant presented at Rowing in London. 'Esperanto,' the first fake restaurant from a dystopian future, draws on the past through a unique blend of truth and fiction within a stylized and conceptual environment.
JV: How has Rome's contemporary art scene evolved since the launch of the magazine?
IM & AB: When we founded CURA. there were good vibes in the city. It was the markets' darkest period, amidst an economic crisis, but at the same time there was something in the air. The opening of two museums – the Zaha Hadid-designed MAXXI and MACRO Museum of Contemporary Art of Rome expanded by Odile Decq – both inaugurated in 2010. Then there were the foundations – Nomas and Fondazione Giuliani as well as a string of contemporary galleries with solid programming such as Monitor, Magazzino or Galleria Lorcan O'Neill. Independent publishing was catching hold in Italy as a para-institutional reference point. Then, as always, things changed. The city slowed down, but Rome's motto is 'Festina Lente' (Hasten Slowly) after all. Rome may be perceived as notoriously slow but it never really stops. It's in perpetual motion. There are now new vibes in the city. Many international galleries have recently chosen Rome for outposts: T293, Frutta, Emanuel Layr and Gavin Brown in the Trastevere arts district, as well as Indipendenza who host an interesting biannual exhibition program. Artists love Rome, and the academies here do a magnificent job of connecting with the community. Furthermore, the city is truly magnificent, like a slightly délabré but very stylish old lady. Our hashtag #swingingrome was designed to put together Rome's strong points, a 'Made in Rome' tribute if you like. Being able to do anything interesting at an international level from here is an extra bonus!
JV: You collaborated with Los Angeles-based gallery Depart Foundation in Miami last year on an intervention at Nautilus A Sixty Hotel – how did Wonderwheel come about?
IM & AB: Wonderwheel was a wonderful experience for us! It was the first time we dealt with a private collection and it was a pleasure to work with Pierpaolo Barzan and Valeria Sorci, founders of Depart Foundation. It was also very exciting to inaugurate Depart Foundation's initiative with Nautilus A Sixty Hotel in South Beach that launched at Art Basel Miami last year. We identified a common vision with their collection and its relevancy in contemporary art production of today. We curated 18 artists who offered a kaleidoscopic vision of the collection with painting, sculpture and video, which was to represent an imaginary wonderwheel of mixed media interventions in the hotel lobby.
JV: What is next for CURA.?
IM & AB: We're interested in artists working with virtual systems and augmented reality. We recently re-opened BASEMENT ROMA with the exhibition 'Truth Table' by Montreal-based artist Ed Fornieles. He transformed the gallery into a simulated environment for sexual experience, inviting viewers to enter the space using VR software and to engage in a chain of sexual interactions. We want to explore similar technological themes for our future exhibition programming as well as connecting the city with cutting-edge artists who have never exhibited in Rome before. Our new advisory board is made up of curators who work with similar spaces around the world similar to ours and we're looking forward to collaborating on projects in Lisbon, Switzerland, in Mexico at Zona Maco, on an outdoor exhibition in Milan and an ambitious project in Los Angeles very soon. Our continued involvement with Hans Ulrich Obrist and Gunnar Kvaran's initiative, 'Europe Europe' is now aiming to create a new map of European artists by investigating European identity and artists' practices. This ongoing research will culminate into a series of exhibitions that will open simultaneously in several European art institutions in 2018. Finally, we're really excited about our new bookshop designed by London-based artist, architect and co-founder of åyr collective, Alessandro Bava. The bookshop at BASEMENT ROMA can now host a residency program of publishers, designers and artists. It's important to us that we create a multi-level dialogue across an international network, connecting different disciplines in Italy and abroad.
Rome's Insider Hotspots by Ilaria Marotta & Andrea Baccin of CURA. magazine
SETTEMBRINI
A café, bistro, delicatessen and a bookshop, Settembrini livens up our neighborhood from morning to night. It punctuates significant moments for us – drinks before art openings, daytime coffee breaks, a sting in the tail at the end of an evening after an exhibition. We work with Settembrini to involve artists by activating the space through site-specific works or live performance. It's always interesting when art gets to appropriate daily life in unconventional or public spaces.
Settembrini
Via Luigi Settembrini, 21, 00195 Rome
+39 06 9761 0325
BASEMENT ROMA
Our very own space where we produce ideas, books, exhibitions and of course, the magazine. You don't notice the basement from outside, but once inside, there is a special energy within. It witnesses alternating moments of euphoria during openings and then in contrast, whole periods of thinking. Everybody we know calls in if they're coming through Rome. The space also hosts a small bookshop of independent publishers.
BASEMENT ROMA
Via Nicola Ricciotti, 4, 00195 Rome
+39 06 9435 8667
COLBERT AT VILLA MEDICI

Inside one of the most impressive Palazzi in town and home to the French Academy in Rome since 1803, Colbert is a new gourmet destination for Romans and visitors alike. The café-bistro offers the most amazing panoramic views of the city from its historical vantage point on Il Pincio.
Colbert at Villa Medici
Viale della Trinità dei Monti, 1, 00187 Roma
+39 331 123 0260
IL GOCCETTO
One of Rome's first wine shops (enoteca), Il Goccetto stocks a great selection of Italian and French wines served alongside antipasti that are enjoyed by locals and connoisseurs alike in the heart of the city.
Il Goccetto
Via dei Banchi Vecchi, 14, 00186 Rome
+39 06 686 4268
TREEBAR
Inspired by Scandinavian design, Treebar is one of our favorite places to go for a drink or have dinner with friends inside this wooden and glass structure deep in the park of Piazza Manila, close to MAXII, the Auditorium and Flaminio stadium. It's the perfect venue during the warm Roman summertime.
Treebar
Via Flaminia, 226, 00196 Roma
+39 06 3265 2754
JERRY THOMAS
The red walls, dim lighting and leather couches set the scene: a place for clandestine meetings. This eccentric speakeasy down a narrow alley will have you hostage sipping cocktail creations through to the early hours.
http://www.thejerrythomasproject.it/
Jerry Thomas
Vicolo Cellini, 30, 00186 Rome
+39 06 9684 5937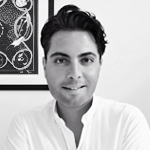 Jonathan is Melting Butter's Arts + Culture Editor covering all eye-pleasing things for Melting Butter's Arts & Culture pages. Being a contemporary visual artist and working in public spaces around the world as well as a freelance culture writer for sites and publications like FAD and London Calling, Jonathan brings a rare combination of talent from the worlds of editorial, conceptual art, design and lifestyle. Be sure to follow his hunger for both high and low culture on his Blog, Twitter and Instagram.
Share this