Design Hotel Find: Hotel Bachaumont Paris
Located in the dreamy neighbourhood of Montorgueil, Hôtel Bachaumont represents the true personality of Paris that exists away from chaotic tourist groups. Its namesake comes from a scandalous 18th century French author, Louis Petit de Bachaumont, known for the gossipy "Mémoirs Secrets". Prominent celebrities, doctors and traders frequented the original Hôtel due to its proximity to the largest market of Paris, Les Halles. Once the market moved to Rungis in 1969, the hotel was sadly abandoned and forced to close its doors.
Fast forward to 2012, when local fashion retailer and avid traveler Samy Marciano decided "to pay tribute to the arrondissement I love so much, to give something back to a neighbourhood which has given me so much, to give it a place which is an extension of itself". He partnered with designer du jour Dorothée Meilichzon, for a project that lasted three years, to create a reincarnation of the hotel that is full of her signature curves, understated color palette and eye-catching patterns.
In total there are 49 rooms, to guarantee an intimate Parisian stay, based on four color combinations. The light bathrooms, with their vintage style taps and sumptuous tiling, pay homage to the Roaring Twenties. The balconies in many of the rooms have incredible views of iconic Paris rooftops. The luxury suites located on the top floor are named after local streets: Montorgueil, Montmartre, Louvre and Bachaumont, designed as artist studios.
The Night Flight Bar is the brainchild of the guys behind Experimental Cocktail Club and is named as a tribute to weary night travelers. Fall in love with design details of copper velvet seating, curvaceous poufs and lozenge lamps, which create a prohibition atmosphere. The bar menu is (obviously) inspired by travel, featuring both classic and exclusive creations. Each signature cocktail comes in its own glass, a nod to well-respected bars of bygone times.
Enjoy a meal in the hotel's spacious restaurant, which has been restored to its former glory and now boasts an open kitchen and impressive glass roof. The effortlessly simple menu with seemingly classic French dishes, such as deviled eggs, offers a fresh take on the brasserie style. The wine cellar boasts a selection of reasonably-priced French wines but also the best "Grands Crus" for amateurs and connoisseurs alike. The concept is to enjoy wine like you were in the comfort of your own living room.
The mood at the Bachaumont subtly transforms as the day advances, encapsulating the atmosphere of the neighborhood with classic Parisian refinement whilst remaining an affordable place where everyone is welcome. Take a stroll along this charming pedestrian street and note the hotel's distinguished neighbors – an upscale hair salon (Christophe Robin), a trendy Cevicheria restaurant (La Cevicheria) and a perfume boutique (Nose).
Hôtel Bachaumont (4*)
18 rue Bachaumont
75002 Paris
+33 (0)1 81 66 47 00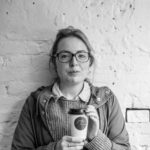 Louise is a British expat based in Paris since 2009. Working in social media by day and moonlighting as a freelance writer, Louise has a weakness for cocktails and independent bookstores, seeking them out whenever she travels to a new city. Read more about her Paris life on her blog, Lou in Paris, or visit her Instagram, which mostly features French pâtisserie and Parisian façades.
(All images courtesy of Hotel Bachaumont Paris by Paul Bowyer).
Share this