The Curators: Bird Boutique's Owner Jen Mankins on Brooklyn's Best Kept Secrets
'Spread love, it's the Brooklyn way' – not to quote hip hop lyrics from the Notorious B.I.G or anything, but we're pretty sure many Brooklynites can attest that this sums up the vibe and feeling of this much loved New York borough. Jen Mankins, ex- fashion buyer at Barneys and Steven Alan, turned owner of Brooklyn cool-girl boutique Bird, has been a local for over 10 years and gives us an insider guide into Brooklyn's best kept secrets. Originally from Texas, Mankins loves Brooklyn for its charm and hospitality, not to mention the best in food, design, creative cocktails and more. From fried chicken to the best home furnishings and unique art, with Jen's guide, you'll wonder why you didn't leave Manhattan sooner.
MEL YAP: Why did you decide to have your three store locations in Brooklyn?
JEN MANKINS: I've lived in Brooklyn since 1999 and worked in Brooklyn since 2001 so I felt very comfortable with each neighborhood and knowing who lived where and what their lives were all about and what I could provide them in terms of a retail shopping experience. Brooklyn is huge and each neighborhood has its own personality and I felt I could best serve my friends and customers if I had multiple locations.
YAP: What makes up your definition of a hotspot in Brooklyn, and how did you discover the locations you've recommended in this city guide?
MANKINS: A hotspot to me is somewhere that is always exciting and inspiring and makes you want to come back over and over again for the incredible experience. I am very curious by nature and am always seeking out new spots around Brooklyn. News travels fast in Brooklyn so it doesn't take long to start hearing about any and all exciting new restaurants and shops.
YAP: How would you compare Brooklyn with other boroughs of New York?
MANKINS: Brooklyn is all about community and interesting, creative people trying new things. Each neighborhood has a distinct feeling, from beautiful, quiet Brooklyn Heights to young and edgy East Williamsburg. But all Brooklyn neighborhoods share a feeling of warmth and community. People are so friendly and you will quickly get to know your neighbors and the names of everyone that works in your local coffee shop and wine store. I love it here because the pace of Brooklyn is a bit mellower than Manhattan, there's a lots of sky and trees too.
BROOKLYN'S BEST KEPT SECRETS ACCORDING TO BIRD'S JEN MANKINS
BEST COCKTAILS & BRUNCH:
THE LONG ISLAND BAR
A Brooklyn landmark for over 50 years – I want to order everything on the menu! Order the Big Tex, a savory chorizo and cheddar filled "cinnamon" roll and a Bloody Mary made with Vodka and Aquavit.
110 Atlantic Ave, Brooklyn, NY 11201
(718) 625-8908
BEST VIEW OF MANHATTAN:
BROOKLYN BRIDGE PARK & THE BROOKLYN HEIGHTS PROMENADE
There is no place that makes me more sentimental about this city than the Brooklyn Heights Promenade. Thanks to the new Squibb Bridge – a zigzagging bouncing footbridge – you can walk directly from the Promenade to the gorgeous, newly constructed Brooklyn Bridge Park and take a stroll along the water.
http://www.brooklynbridgepark.org/
334 Furman Street, Brooklyn, NY 11201
BEST BEER HALL:
THREES BREWING
This soon to open Brewery in the Gowanus section of Brooklyn is destined to be a favorite place to sit and sip away a Saturday afternoon. I had a preview of the space (and the beer!) last week and can't wait for it to officially open later this month. The meticulously designed cavernous main hall is lined with stainless-steel brewing tanks where each of their handcrafted beers is made.
333 Douglass Street. Gowanus, Brooklyn, NY.
BEST KIDS STORE:
ACORN
Literally a one-stop shop for any tot on your shopping list. They specialize in handcrafted toys, beautiful clothes, books and decorative objects. Half the things I buy there I want to keep for myself. I particularly covet the animal mobiles made by Brooklyn artist Tamar Mogendorff.
323 Atlantic Ave, Brooklyn, NY 11201
(718) 522-3760
BEST CHOCOLATE:
MAST BROTHERS CHOCOLATE FACTORY
I never get tired of stopping in to visit the multi-tasking, multi-talented maestro chocolate makers. Their factory is a heady modern-day Willy Wonka wonderland where you can witness the chocolate being made one beautifully wrapped bar at a time. Starting in a few months, they will be introducing their first ever milk chocolate bar.
Factory Address:
111 N 3rd St, Brooklyn, NY 11211
(718) 388-2625
Brew Bar Address:
105A N 3rd St, Brooklyn, NY 11249
BEST FRIED CHICKEN:
WILMA JEAN
A perfect local joint in Carroll Gardens specializing in fried chicken and southern comfort food helmed by chef/owner Rob Newton. Wilma Jean takes me way back to my East Texas roots. You cannot go wrong with any variation of the fried chicken and always order a slice of homemade cornbread with salted molasses butter.
345 Smith St, Brooklyn, NY 11231
(718) 422-0444
BEST HOME STORE:
COLLYER'S MANSION
This tiny shop in the heart of Victorian Ditmas Park is perfectly curated by owner Mauri Weakly. The shop is packed with treasures, beautiful and original home furnishings, gifts and jewelry. She also has a rotating selection of local artists called the "White Brick Series" where you can find an incredible variety of original and affordable art. I never leave empty-handed.
368 Stratford Rd, Brooklyn, NY 11218
(347) 240-2227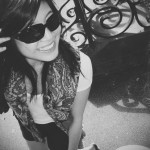 A freelance writer who has appeared in Broadsheet and Monocle, Mel is a recent transplant from Melbourne, Australia. Always on the prowl for NYC's best restaurants, coolest stores and most inspiring art, Mel is Melting Butter's fashion, food and design obsessed contributor. Follow Mel on Instagram, Twitter & Pinterest.Read about Mel's other favorite hotspots here.
(Feature image: Jen Mankins – Photo: Courtesy of Bird)
Share this