Cool Bar Find: Bar Basquiat Amsterdam
Yet another hotspot – this one named in honour of the great American artist Jean-Michel Basquiat – has popped up in the achingly cool, ever up-and-coming, Amsterdam Oost.
Bar Basquiat effortlessly captures the spirit of the neo-expressionist painter, with his bold and captivating work ingrained in the distressed metal and paint-splattered concrete of the Studio Modijefsky-designed space.
Acknowledging the building's former life as a local supermarket, Modijefsky combined a sense of product placement with Basquiat's tradition of mixing and overlapping textures to create distinct areas with different associated materials. Milky, textured paint covers the wall of what was once the dairy products section, and the menu hangs in the form of a huge receipt where the cash register used to be.
Graffiti-style scribbling, for which Basquiat was renowned, adorns the walls and menus, while wire mesh – reminiscent of a traditional shopping basket – encloses the bar area, where bold reds and neon lighting appear to pay homage to the classic American diner.
This aesthetic collage of Basquiat's quotes, sketches and works fits the bill for a hip Amsterdam bar, but the space also maintains a high standard of drinks and bites. With an extensive list of local and imported beers and an unconventional collection of street-style dishes from baba ganoush to steamed pork buns, Bar Basquiat perfectly reflects the diverse neighbourhood of the surrounding Javastraat.
Bar Basquiat Amsterdam
Javastraat 88-90
1094 HM Amsterdam
+31 20 370 83 34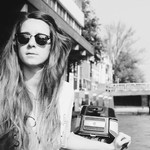 British expat who relocated to Amsterdam almost 4 years ago to study; the plan was to stick around for a year but I accidentally fell head over heels for this charming city and his irresistible charm. Peanut butter and IPAs make my world go round, my favourite Dutch word is handschoenen (gloves) – literally, hand shoes, and one time I auditioned to play a zombie extra in the movie, World War Z. Follow Robyn on Instagram.
(Images courtesy of Bar Basquiat Amsterdam)
Share this