Cafe Find: Catalyst Coffee Auckland
Located in the central suburb of Remuera, Catalyst Coffee Auckland is the escape and experience all coffee connoisseurs dream of.
Taking inspiration from the open kitchen concept, owners (and National Barista Champions) Hanna Teramoto and Xin Yi Loke designed the coffee bar with the intention of inviting customers to an open conversation – just as a cup of coffee does. The minimal and understated space gives way for guests to focus on the specialty, single origin coffee, tea, and even chocolate being served.
Catalyst Coffee uses local roasters for their espresso, while a monthly rotation of various international roasters are called on for their filter option – bringing to the table a fresh coffee experience each time. Currently, Catalyst Coffee is serving Ninety Plus Maker Series Hanna Teramoto Ethiopian & Red Rabbit Coffee's Honduras Espresso and Ninety Plus Maker Series Hanna Teramoto Ethiopian & Market Lane's (Melbourne, Australia) Brazil Airuma Filter.  
The small selection of pastries on offer, from local French bakery, La Voix Francaise, is just as thought-out and curated as the beverage menu.  
In the spirit of competition, Teramoto and Loke have established Catalyst Coffee as nothing short of first-class.
Catalyst Coffee Auckland
1A/415 Remuera Rd, The Village Green, Remuera, Auckland NZ
+64 9 600 1645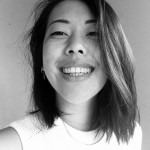 Lisa is Melting Butter's resident editorial and experiential events intern. Hailing from New Zealand, she is a Communications degree graduate who recently moved to New York City after spending the past year working with an award-winning boutique PR and events agency. She is a self-professed food, coffee and fashion addict who would marry this city if she could.
(All images courtesy of Catalyst Coffee Auckland.)
Share this