Boutique Hotel Find: Riad Jardin Secret Marrakesh
A riad, meaning 'garden' in Arabic, is traditionally  organised around a patio contained by high walls with a fountain at the centre. Riad Jardin Secret Marrakesh is an intimate example, catering to a maximum of 13 people with just three rooms and two suites. Bathrooms are crafted from tadelakt, an ancient Moroccan plaster finish. Both suites feature open wood fireplaces and  Zellige tilework.
The striking pink rooftop offers a view of the Atlas mountains in the distance, making a picture perfect setting for home cooked  vegan and vegetarian-friendly meals.  Reserved for guests only, owners Cyrielle and Julien made a decision to preserve their relaxed environment, avoiding any prying eyes and camera phone lenses. The riad's spirit is defined by discretion and a laid back attitude after all.
Riad Jardin Secret was originally built as an expression of the romantic feelings of a wealthy Marrakchi in the early 20th century. Often built in pairs, the almost identical riads were created side-by-side to house both his wife and lover. Today however, a spa is conveniently located next door for guests to slip out and enjoy a hammam.
Cyrielle and Julien, Parisian lovers who settled in Marrakech to begin a new chapter as business partners, both previously worked in the fashion industry – Cyrielle as a model and photographer, while Julien lent his style conscious sensibility to young luxury labels.
Inspired by an 'anti-modern' lifestyle, they restored the crumbling riad they found in the Bab Doukkala area, paying close attention to local artisanal traditions with  lattice woodwork, colorful mosaics  and flea market finds.  Visitors are greeted by the friendliest of resident dogs and are captured on Polaroid by Cyrielle for the guestbook before saying goodbye. Riad Jardin Secret is truly a home-away-from-home for those in the know.
Riad Jardin Secret Marrakesh
43 – 46 Arset Aouzal, Marrakesh 40000, Morocco
+212 5243 76606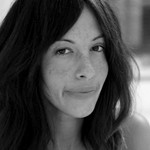 Reemé is a creative director based in London. After a few years working as a freelance fashion stylist, she now produces content and events for landowners, agencies and brands. Destinations that blend hospitality with retail excite her most. @reeme
(All photos courtesy of Riad Jardin Secret Marrakesh. Photography by Cyrielle Astaing.)
Share this