Boutique Hotel Find: Casa Mãe Lagos
Situated beside the 16th century city walls of Lagos, Portugal, lies Casa Mãe, the passion project of friends and former neighbours Veronique Polaert and Christian Kraus.
The new hotel, completed in 2017, offers rooms and bungalows in a sleek, sensitively designed new building and a restored 19th century house. Every element of the design expresses a charming homage to slow living and great surf, with rooms fitted with freestanding bathtubs, hammocks on the terraces and handmade terracotta tiles, hinting at a relaxed, careless glamour.
Casa Mãe's founders published a book telling the stories of the local craftspeople and artisans that worked on the hotel. This attention to the subtle details of local culture is at the heart of French interior designer Martin Blanchard's approach in realizing Veronique's vision for contributing to the vibrant local creative scene.
Loja is an on-site concept store featuring a selection of limited edition collaboration pieces and showcasing some of Portugal's best new designers such as La Paz, Coração Alecrim and GUR. Situated next to Loja is Orta, Casa Mãe's restaurant which is supplied with fresh produce from their garden and off-site farm. Sweet oranges are plucked from the trees framing the casual dining area, where you can watch resident chefs make use of the outdoor ovens.
Casa Mãe offers the chance to be surrounded by work of Portugals rising crop of design brands, creatives, and local producers, blossoming under the energising light of the Algarve sun.
Casa Mãe Lagos
R. do Jogo da Bola 41, 8600-712 Lagos, Portugal
+351 968 369 732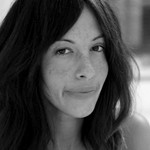 Reemé is a creative director based in London. After a few years working as a freelance fashion stylist, she now produces content and events for landowners, agencies and brands. Destinations that blend hospitality with retail excite her most. @reeme
(All photos courtesy of Casa Mãe Lagos.)
Share this