Art Museum Find: Centre Pompidou Paris
The controversial exposed skeleton of the Centre Pompidou is still as awesome as it was at its launch in 1977. The museum continues its mission as a multi-disciplinary centre for art, literature and music with the Public Information Library, National Museum of Modern Art and Institute of Music and Acoustic Research all housed in this vast complex in the Beaubourg area of the 4th arrondissement.
Ascend the iconic inside-out escalators to view the museum's stellar exhibition programme on several levels dedicated to art movements, contextual themes and artist profiles throughout the history of modern art. A replica of sculptor Constantin Brancusi's atelier is a must see as well as the new Espace 315 that features artists under the age of 40-years-old.
View Alexander Calder's 25-feet high freestanding mobile, 'Horizontal' on arrival or from height as you rise the museum, which offers spectacular vistas across the city.
https://www.centrepompidou.fr/
Centre Pompidou Paris
Place Georges-Pompidou, 75004 Paris, France
+33 1 44 78 12 33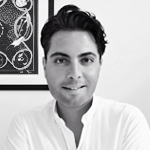 Jonathan is our UK-based correspondent covering all eye-pleasing things for Melting Butter's Arts & Culture pages. Being a contemporary visual artist working in public spaces around the world as well as a freelance culture writer for sites and publications like Ohh Deer and Candid Magazine, Jonathan brings a rare combination of talent from the worlds of editorial, conceptual art, design and lifestyle. Be sure to check his blog and his art practice, which satisfy his hunger for both high and low culture. Follow his tweets too: @JMVELARDIRead about Jonathan's favourite hotspots here.
(Feature Image: Centre Pompidou Paris – Detail Shot, by Jason Lewishamdreamer)
Share this