Art Museum Find: The Barbican London
A hub of creativity lies behind the Brutalist concrete walls that make up this urban complex and Instagrammers' paradise in the heart of London. Since its completion in the Eighties, the ambitious conception for the multidisciplinary Barbican Centre retains its dynamic vision to this day.
Lose yourself between the network of music halls, cinemas, theatres and art galleries that offer a diverse programme of international art, music, film, theatre and experimental dance throughout the year.
We recommend booking advance tickets for daily architecture tours that explore the Barbican's unique interior and exterior spaces to discover why this is one of the most controversial and inspiring spaces in London.
Silk St, London EC2Y 8DS, United Kingdom
+44 20 7638 4141
(Feature Image: by Padsyms)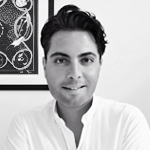 Jonathan is our UK-based correspondent covering all eye-pleasing things for Melting Butter's Arts & Culture pages. Being a contemporary visual artist working in public spaces around the world as well as a freelance culture writer for sites and publications like Ohh Deer and Candid Magazine, Jonathan brings a rare combination of talent from the worlds of editorial, conceptual art, design and lifestyle. Be sure to check his blog and his art practice, which satisfy his hunger for both high and low culture. Follow his tweets too: @JMVELARDIRead about Jonathan's favourite hotspots here.
Share this