Art Find: Fondazione Prada Milan
The brand new Fondazione Prada has been in the works for years, but after only weeks since opening it has already become a hotspot for culture in Milan. The long-awaited institution located in a former distillery, re-thought by Rem Koolhaas, is – as the architect explains – "not a preservation project and not a new architecture".
Fondazione Prada Milan aims to bring together literature, cinema, music, philosophy, art and science. With visual art being the main language, together with Prada's distinctive and very Milanese elegance, a walk around the space becomes an unexpected trip to utopia. The inaugural exhibition explores how copies and multiples aren't a matter of just contemporary art, showing how "the age of reproduction" in art starts with the ancient Greeks and Romans and not with Walter Benjamin.
Prada's impressive art collection includes permanent artworks from Robert Gober and Louise Bourgeois, a site-specific installation by Thomas Demand as well as a cinema featuring a selection of Roman Polanski's inspirations.
If that's not enough, have a coffee at Bar Luce, a typical 1950s and 1960s bar designed by no less than Mr. Wes Anderson – don't forget to use the jukebox!
What Milan needs, Miuccia Prada provides.
http://www.fondazioneprada.org/
Fondazione Prada Milan
Largo Isarco 2, Milano 20139
+39 02 56 66 26 11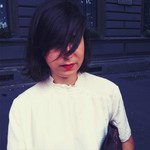 Sara is Melting Butter's Milan contributor. An art and culture journalist, now also a creative producer for Out There agency, she has written (and spoken) for Monocle24, BlouinArtinfo.com, Grazia Italy, and Vogue Living Australia among others. A native Milanese she loves all things culture and living the good life. She met Melting Butter's founder Jenny Nguyen-Barron while living in New York and feels luckier ever since.Read about Sara's favourite hotspots here
(Feature Photo: Fondazione Prada Milan by Bas Princen courtesy Fondazione Prada)
Share this