Art Find: Albright-Knox Art Gallery Buffalo
With a 150-year tradition of collecting art of the times, Albright-Knox Art Gallery is one of the oldest public arts institutions in America. Its spectacular Greek revival façade on the edge of Buffalo's Delaware Park transformed the former Buffalo Fine Arts Academy, founded in 1862, into a permanent gallery space in 1905. What soon followed was the support of Seymour H. Knox, Jr., who expanded the gallery's collection and set the curatorial precedent that continues today.
Do not be deceived by the museum's ionic-lined exterior. Alongside its enviable collection of early twentieth-century modernist masterworks that includes the likes of Miró, Picasso and Willem de Kooning, hang twenty-first century acquisitions in the form of Matthew Barney, Mark Bradford, Felix Gonzalez-Torres, Sol LeWitt, Mona Hatoum and Catherine Opie.
Beyond the museum's gallery walls, supersize works by Alexander Liberman, Jaume Plensa, Do Ho Su and Nancy Rubins span the grounds with monumental public art. Dine in style in the company of British artist, Liam Gillick's minimalist installation on the walls of the musuem's AK Café serving lunch through to dinner, while looking out to the dynamic fluid stainless steel camouflage screen by celebrated American artist Jim Hodges in the museum's internal Sculpture Garden.
Albright-Knox Art Gallery
1285 Elmwood Ave, Buffalo, NY 14222
(716) 882 8700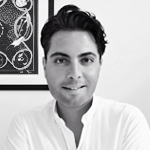 Jonathan is our LA-Based Arts + Culture Editor covering all eye-pleasing things for Melting Butter's Arts & Culture pages. Being a contemporary visual artist working in public spaces around the world as well as a freelance writer for sites and publications like FAD and London Calling, Jonathan brings a rare combination of talent from the worlds of editorial, conceptual art, design and lifestyle. Be sure to check his blog that satisfies his hunger for both high and low culture and follow his tweets @jmvelardi and Instagram @jonathanvelardi
Read about Jonathan's favourite hotspots here.
(Feature Photo:– Albright-Knox Art Gallery Buffalo – Photo: Tom Loonan)
Share this